Vertical Aerospace has selected the Taiwanese firm Molicel to supply high-power battery cells for the company's VX4 electric vertical take-off aircraft.
The two sides have entered a partnership which will result in Molicel providing its cell technology for integration with Vertical Aerospace's battery-pack design.
Vertical Aerospace says the agreement will enable it to develop the VX4 through to certification and entry into service.
"Molicel has a rich history of innovation and pushing the boundaries of what's possible in energy storage," says Vertical Aerospace chief Stephen Fitzpatrick.
It states that it analysed "dozens" of cell manufacturers before choosing Molicel, adding that the company is "uniquely placed" to meet the safety and performance demands of the VX4.
Molicel already provides battery technology to sectors including the space industry with US space administration NASA among its partners.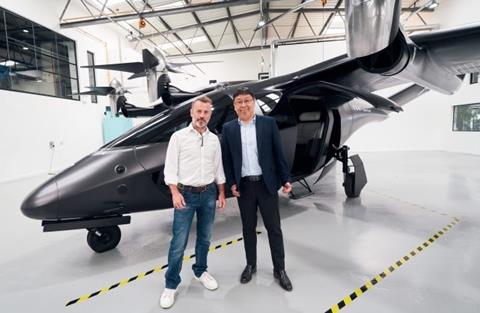 Vertical Aerospace points out that management of thermal-runaway events is critical to safety certification, and that Molicel's cylindrical cell format is "key" to this objective.
"The VX4 needs high-performance cells to enable the range and payload Vertical's customers demand," it adds. "Molicel has the highest-power and -energy cylindrical cell in the world."
Molicel will also help "optimise" the life-cycle of the battery cell for eVTOL applications, the aerospace firm states.
Vertical and Molicel have established a joint working group to ensure the battery cells can deliver safe, reliable and high performance for the VX4. The battery system will be certified through the European Union Aviation Safety Agency and the UK Civil Aviation Authority with a view to 2025 service entry.
Molicel president Casey Shiue says the company views its technology as a "key enabler" of safe and efficient flight, adding: "We are on a mission to produce outstanding cells to drive the electric evolution."