Airbus is progressing towards flight-testing a demonstrator based on the Cessna Citation VIII executive jet, which will feature advanced wing technologies, following completion of windtunnel testing.
The airframer's 'eXtra Performance Wing' programme is intended to explore active wing control through such modifications as pop-up spoilers, gust sensors and multifunctional trailing edges.
It follows the small-scale aeroelastic hinged-wing – designed to cope with turbulent conditions – demonstrated under the 'AlbatrossOne' project.
As with this earlier demonstrator, several of the technologies have been inspired by nature and adapted through biomimicry.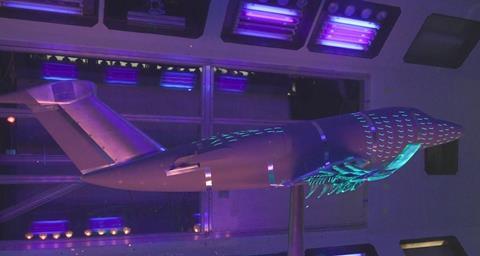 The windtunnel testing used a scaled-down version of the Citation VII business jet, built at Airbus's UK facility in Filton, with the long-span wing modification.
"Our computational aerodynamic analysis capability is world class, and the windtunnel provides another valuable way to measure the performance and capabilities of the aircraft before flight-testing," says Oliver Family, who heads the UK wing programme.
He says the scaled flight-test demonstrator, which will use a remote-controlled platform based on the Citation VII, will integrate the technologies and enable further analysis under normal flight conditions.
Airbus intends the wing demonstrator to show the potential for active wing control to assist in efforts to generate reduced emissions and support decarbonisation.