Windtunnel tests have been conducted on the Russian 44-seat regional turboprop under development by Ural civil aviation plant UZGA.
The low-speed windtunnel and airflow-visualisation tests on the high-wing twin-engined aircraft – formerly the TVRS-44 but subsequently named 'Ladoga' – have been carried out at the Central Aerohydrodynamic Institute.
Researchers have paid particular attention to the influence of the undercarriage fairings, and the vertical and horizontal tail control surfaces. The Ladoga has a T-tail configuration.
The institute says the effect of the propeller airflow on the wing is a key part of the current analysis.
"Data obtained during the experiment made it possible to confirm the aerodynamic characteristics of the aircraft incorporated in the calculations," it adds.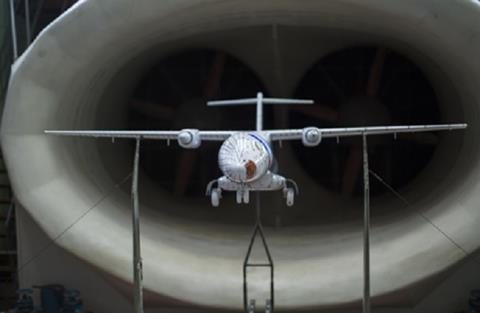 UZGA is developing the Ladoga as an alternative regional transport to the Soviet-era Antonov An-24 and Yakovlev Yak-40.
The tests at the institute have also examined the aircraft's behaviour in the event of single-engine failure.
This involved simulation of the failure in the windtunnel with the blades set to the feathered position.
"These data will allow us to assess the stability and controllability of the aircraft," the institute states.
Aircraft aerodynamics division head Alexander Kornushenko says the results of the tests correspond closely to the preliminary computational studies on the Ladoga's configuration.
"We confirmed the expected values of the lift coefficient, lift-to-drag ratio, and efficiency of the aircraft control surfaces," he says.