Advanced propulsion specialist ZeroAvia has acquired a pair of Dornier 228 turboprops for research, as it seeks to progress towards developing a 19-seat hydrogen-electric powered aircraft.
The company has also obtained further funding for a proposed engine intended for aircraft of around 50 seats.
North Carolina-based AMC Aviation and the Guernsey regional operator Aurigny are supplying the Dorniers, which will respectively be used for research in the USA and UK.
ZeroAvia had demonstrated a 250kW hydrogen powerplant in a six-seat Piper M350 aircraft, under a project designated HyFlyer I.
While this aircraft was badly damaged in a landing accident towards the end of the test programme, ZeroAvia says it "successfully demonstrated" the powerplant.
It will incorporate its findings into the HyFlyer II project which aims to develop a 600kW powerplant for 19-seat aircraft.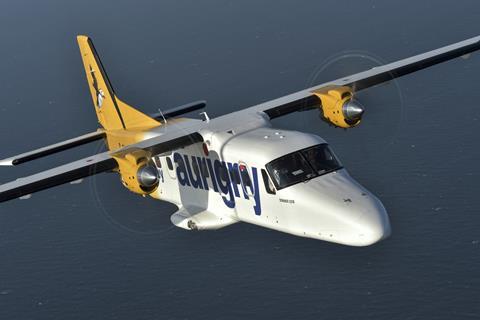 The work will take place at Kemble in the UK, supported by testing at the company's California facility in Hollister which will build a second demonstrator for the North American market.
Two 600kW powertrains will be installed to replace the turboprops, while tanks will be fitted to hold 100kg of hydrogen gas. ZeroAvia, which aims to achieve a 500nm range for the aircraft, gives a "commercial offering" date of 2024.
"We are eager and ready to begin testing our hydrogen-electric powertrain technology on a larger commercial-size aircraft," says ZeroAvia founder and chief executive Val Miftakhov.
"Hydrogen is the only practical solution for true climate-neutral flight, and it will become a commercial reality much sooner than many predict."
The company's work is being backed by investor AP Ventures and other funding sources, providing another $13 million in funding for an engine-development programme for aircraft in the 50-seat sector.
This follows another private investment of $24 million for the 50-seat initiative unveiled a few weeks ago.
"We have been impressed with the progress that ZeroAvia has made over the last 24 months, technically, operationally, and commercially," says AP Ventures partner Kevin Eggers, adding that the investor believes the company will "pioneer" hydrogen-electric powertrains for aviation.
"We have become increasingly confident about the significant role of hydrogen in decarbonising aviation."
Aurigny chief Nico Bezuidenhout says that, along with achieving decarbonisation, the 19-seat programme could "expand the reach" of regional aviation by reducing operating costs and making smaller aircraft "competitive" with larger ones.