Quebec-based MHI RJ Aviation Group is to co-operate with experimental propulsion specialist ZeroAvia to explore potential use of hydrogen-electric power for regional jets.
MHIRJ focuses on aircraft maintenance for the CRJ fleet formerly manufactured by Bombardier, after Japan's Mitsubishi Heavy Industries acquired the CRJ programme.
Under the agreement it will collaborate with ZeroAvia to develop hydrogen-electric propulsion for the regional jet sector.
"Regional aircraft are key to keeping smaller communities and regions connected and are also more able to exploit the new technologies on the horizon than larger aircraft," says MHIRJ chief executive Hiro Yamamoto.
"Therefore this is a logical place for this development to begin."
Yamamoto says MHIRJ is working with future propulsion specialists to ensure that the company is "at the forefront" of the technological advancements.
ZeroAvia has already test-flown a six-seat Piper light aircraft with a hydrogen fuel-cell engine and is converting a 19-seat Dornier 228 turboprop in order to install its zero-emission powertrain.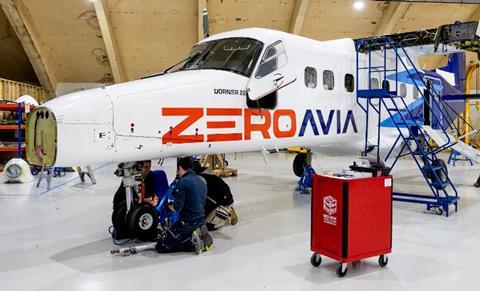 It says the MHIRJ tie-up will provide design, engineering and certification services to ZeroAvia, supporting not only the development of new aircraft using the powertrain technology but also the "green retrofit" potential.
"This marks a crucial step in ZeroAvia's progress and entry into a wider market," it adds.
Its ambitious strategy includes possible regional jet applications from around 2028.
By this point the company hopes to have certified and secured market entry for the 19-seat powertrain and shifted its focus to 50- to 80-seat aircraft.
"We believe that, in the future, almost every aircraft in the world will be powered by hydrogen-electric engines, simply because it is the most viable and scalable method for eliminating carbon," says ZeroAvia chief Val Miftakhov. He says the co-operation with MHIRJ is a "significant milestone" for the industry.