Airbus chief executive Guillaume Faury has signalled that the airframer will consider offering a second powerplant option for the A220 once it embarks on developing a larger variant of the twinjet.
The A220 currently has two models – the -100 and -300 – which are exclusively powered by Pratt & Whitney PW1500G engines.
But Faury indicates that a larger third variant, tentatively called the A220-500, is a programme likely to emerge in the future because it would offer a "complete family" at the lower end of Airbus's product range.
"In that sense we think it could call for dual-sourcing of engines at the right point in time, if engine manufacturers are ready to go there," he tells FlightGlobal.
Faury has not identified a potential second powerplant supplier, but the A320neo family is offered with Pratt & Whitney and CFM International engines.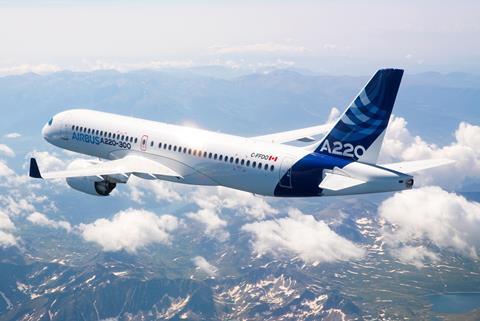 While operational issues have been affecting in-service A220s – and their resolution hampered by supply-chain problems – Faury says this situation is not the primary driver for a second engine option.
"The reason we go single- or double-source on engines is less due to risk and supply and more for strategic and contractual reasons," he says.
"It's more difficult to be double-sourced on widebodies because the volumes are smaller and investments bigger than on single-aisle. We're very happy to have double-source on single-aisle, that works very well."
Faury has previously referred to the A220-500 as a "when, not if" project, but stresses that it remains a low priority given the focus on ramping-up output – as well as cutting the production cost – of the current A220 models. Airbus has 520 A220s in its backlog, of which 483 are the larger -300 variant.