Airbus has embarked on a 10-day flight-test campaign using a single A321XLR prototype as part of the variant's development programme.
The aircraft being used is MSN11080 (F-WWAB), powered by CFM International Leap-1A engines, which first flew in October last year.
It took off from Toulouse at around 09:35 on 13 September, operating initially across Spain, Portugal, the Mediterranean Sea and Italy.
Airbus says the aircraft will perform 100h of flights, with no system power-down, intended to demonstrate technical reliability and maturity under "varying climatic conditions" and durations.
"[These are] typical of what airlines might fly when the aircraft enters into service," it adds.
MSN11080 is the third of the three A321XLR prototypes manufactured for the certification effort, and is fitted with a full cabin interior.
Airbus's lead flight-test engineer for the exercise, Jim Fawcett, says the 100h of flying will be a subset of the 150h of representative routine operations required by the European Union Aviation Safety Agency.
"We're looking to go somewhere a bit warm, and a bit cold – to different airfields in terms of their infrastructure, location, weather and runway altitudes," he says.
"If we can tick all of those boxes as well, then it makes it a much more representative demonstration."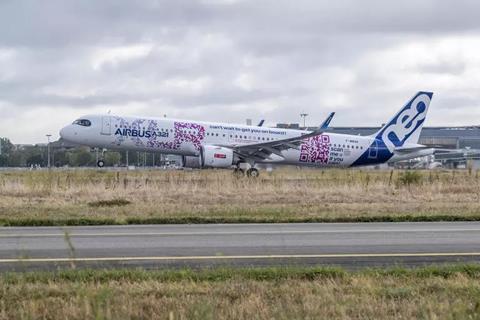 Airbus is co-operating with an airline, with operational cabin crew and pilots participating alongside the airframer's own test personnel. Some 30 individuals – a mix of Airbus volunteers and airline employees – will act as a representative group of passengers.
Flights to be conducted during the maturity exercise will include transatlantic service to a US airport, and an operation in the vicinity of the North Pole.
"Crucial to the whole operation are also the ground crews, who will be pre-positioned at each end to turnaround the aircraft as if it was in real airline service," says the airframer.
Once the flights are completed, Airbus will submit a report to EASA for regulatory assessment.
"If our participants tell us that they see very little difference versus the A321s in current operation then, to be honest, Airbus as an organisation will have done its job," says Fawcett.
Airbus is aiming for service entry of the A321XLR in the second quarter of next year. The variant has been designed for the long-haul single-aisle market, with an advertised range of 4,700nm.