Airbus's A330 has become the first of the European airframer's twin-aisle aircraft to reach 1,500 deliveries, a mark only previously achieved by two Boeing widebody models.
Delta Air Lines received two A330-900s last month – on 21 and 23 September – which respectively represented the 1,500th and 1,501st A330s to be handed over.
Only the Boeing 777, with 1,642 deliveries, and the 747 with 1,557 have previously reached the threshold.
Of the first 1,500 A330s a total of 771 have been the A330-300 variant, followed by 643 A330-200s and 48 of the re-engined A330-900s. The remaining 38 are freighters, based on the -200 airframe.
Fifty-eight A330s have been delivered to government or executive operators, with nearly 50 submitted for military tanker conversion.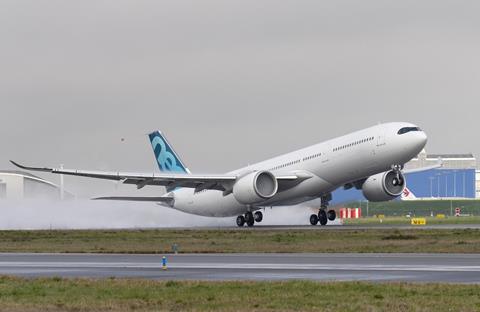 Airbus has also separately manufactured three modified A330-700L aircraft, better known as the BelugaXL transports, for its internal logistics arm. The third of these is to be "delivered soon", says the airframer.
Rolls-Royce's Trent 700 engine has been the dominant powerplant on the earlier A330 variants, while its Trent 7000 is the exclusive engine on the A330neo.
Air Inter became the first operator of the A330, in early 1994, and Airbus has taken 26 years to reach the 1,500th delivery.
Although the first Boeing 777 was delivered a year after the initial A330, the US jet reached its 1,500th delivery in a shorter time, with the handover of a 777-300ER to United Airlines in mid-2017.
Boeing delivered its 1,500th 747, a 747-8 variant, to Lufthansa in 2014 – some 44 years after the first entered service with Pan Am.
Airbus says it intends to start delivering the first A330-800s, the latest version of the twinjet and the smaller variant of the A330neo, in "the coming weeks".
It has also newly secured certification for the highest-weight option of its A330-900, which has a maximum take-off weight of 251t, giving the type twice the 4,000nm range of the first 212t A330-300s.
The airframer says the landmark delivery illustrates the "enduring qualities" of the twinjet's original design, combined with subsequent enhancements and modifications to refine the aircraft's aerodynamic and payload capabilities, fuel efficiency and interior configuration.
"It was Airbus' first long-range aircraft and the first programme to have an integrated final assembly facility with the [assembly line], the paint shop and cabin furnishing in the same place," it adds.
While monthly production has been trimmed to just two aircraft, as a result of the air transport downturn, Airbus still has over 300 A330s in its backlog, having secured orders for 1,818 aircraft.