Airbus has introduced several low-weight variants of the A330neo, for both members of the re-engined twinjet family.
Four new variants – with maximum take-off weights from 205t to 220t – have been listed for the A330-900, and feature in an updated European Union Aviation Safety Agency type certificate.
These new variants are designated WV905 to WV908.
Four corresponding variants have also been approved for the A330-800, along with a fifth, WV809, which features a maximum take-off weight of 200t.
Prior to the change both the A330-800 and -900 were available with five weight options ranging from 230t to 242t and three from 247t to 251t.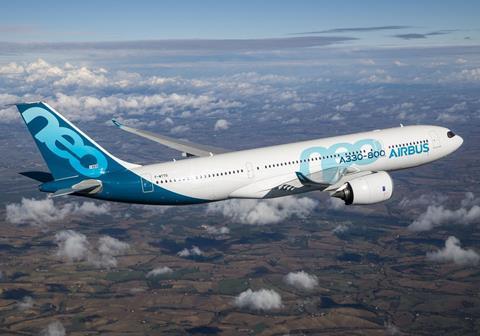 Reduction of the maximum take-off weight gives carriers that do not need the aircraft's full capability the opportunity to minimise air navigation and landing charges, which are calculated according to declared maximum weight figures.
The lowest maximum take-off weights listed for the A330-300 and -200 are 184t and 192t respectively.
Up to the end of July a total of 63 A330neos had been delivered, of which 59 were the larger A330-900. Both the -900 and -800 are powered by Rolls-Royce Trent 7000 engines.