Airbus's A330-900 has been certified for carbon dioxide emissions, the first time the European Union Aviation Safety Agency has applied such a process to an aircraft approval.
The airframer voluntarily submitted the A330-900 – powered by Rolls-Royce Trent 7000 engines – to the certification after ICAO finalised a carbon dioxide standard, which was implemented by EASA in mid-2018.
Airbus will be the first manufacturer to apply the certification requirement. "Its experience will contribute to improving and further developing the standards set by ICAO, which will benefit the entire industry," says the regulator.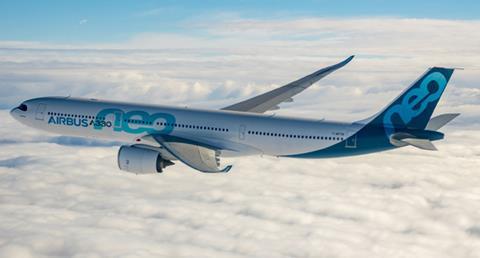 EASA says the process assesses the aircraft's fuel efficiency in cruise from which the carbon dioxide emissions during operation can be calculated.
It points out that this efficiency is affected not only by the engines but by the aircraft's weight – which changes as fuel is burned – and by its airspeed, altitude and aerodynamic characteristics.
The certification requirements involve checking the aircraft's efficiency and emissions performance against limits set out in ICAO's Annex 16.
EASA says the certification is a "key milestone" on its strategy to establish an "environmental label" for aviation by next year. This label will use carbon dioxide emissions data to assess the aircraft's environmental performance.
"This is a new and important factor for environmental certification in light of the global efforts to decarbonise the aviation industry," says EASA executive director Patrick Ky.
"There is a long way still to go to reach this goal, but every step is important in demonstrating that aviation is moving determinedly towards that objective."
EASA believes other aircraft manufacturers will similarly seek carbon dioxide certification "based on various expressions of interest".
Airbus head of aviation environmental roadmap Simone Rauer says the certification shows the A330-900 meets ICAO regulations beyond 2028, the year from which aircraft in production will need to comply with the carbon dioxide standards.
"All the other Airbus airliner products will receive certification in due course in a timeframe consistent with the certification requirements," the airframer adds.