Orders for Airbus A350s have passed 1,000 for the first time, after nearly 60 of the twinjets were added to the backlog during the Paris air show.
Airbus unveiled the aircraft as the A350 XWB in July 2006, and formally launched the programme in December, replacing an earlier concept which was based on a re-engined A330.
It subsequently started migrating customers from the earlier aircraft to the XWB family.
By the time of the A350's first flight, in June 2013, the airframer had secured around 600 firm orders. The figure rose to around 800 shortly after the maiden flight, but the pace of orders has been slower over the past decade.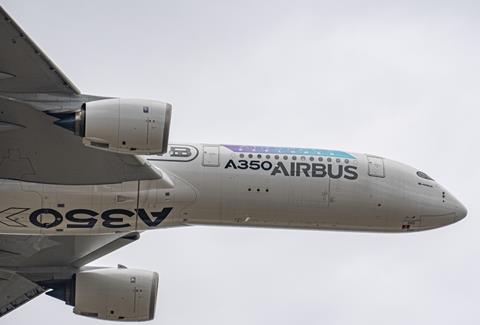 This has been particularly the case for the larger A350-1000 which has laboured to reach 200 orders owing to a mix of cancellations, conversions to other variants, and a stagnation in demand during the pandemic.
But Airbus's reinstatement of a 23-aircraft Qatar Airways backlog – scrapped during a legal tussle between them – plus Air India and Philippine Airlines deals for 43 aircraft, sealed during the Paris air show, lifted have total firm A350-1000 commitments to 224.
Airbus recorded orders for 16 A350-900s at Le Bourget, taking the half-year total for the -900 to 21, while the A350 business has also benefited from the cargo sector interest generated by the new freighter version, the backlog for which stands at 39.
As a result, overall A350 orders edged into four figures over the first six months of this year, rising to 1,026 aircraft by 30 June.
Airbus is producing A350s at around six aircraft monthly, with the aim of steadily increasing this to nine by the end of 2025. The airframer delivered 21 A350s in the first half, comprising 16 -900s and five -1000s.