One of Lufthansa's Airbus A350-900s is undergoing an extensive conversion programme, being fitted with equipment to enable the twinjet to operate as the carrier's latest climate research platform.
The aircraft (D-AIXJ) was delivered to the German flag-carrier three years ago, in May 2018.
Lufthansa says it will be transformed into a "flying research laboratory" by modification specialist venture Lufthansa Technik Malta.
The aircraft will collect data on long-haul routes from the end of 2021 for the European IAGOS-CARIBIC programme, which uses civil aircraft to investigate and analyse the air with a complex 1.6t set of instruments fitted inside a container.
Lufthansa has been involved in atmospheric and climate measurement work since the mid-1990s, having used a similarly-modified Airbus A340-600 (D-AIHE), an A330-300 (D-AIKO), and an A340-300 (D-AIGT).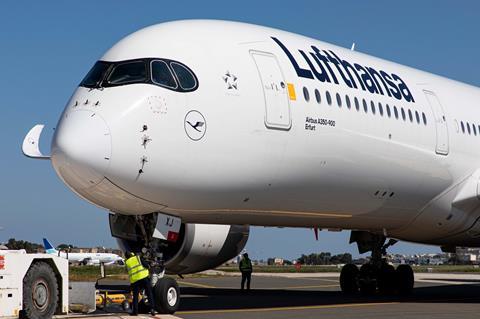 Prior to CARIBIC the carrier had co-operated with efforts to measure ozone, carbon monoxide and nitrous oxides through the MOZAIC initiative.
Lufthansa says the A350 will carry a "complex" air-intake system on its fuselage underside, to enable it to examine about 100 different trace gases, aerosols and other data at altitudes within the tropopause above about 30,000ft.
The information will be used to validate the performance of climate modelling.
"Climate-relevant parameters can be recorded at this altitude with much greater accuracy and temporal resolution on board an aircraft than with satellite-based or ground-based systems," says the carrier.
Lufthansa states that four years of "extremely elaborate" planning was undertaken, before the A350 conversion, involving Airbus, Safran and the Karlsruhe Institute of Technology, as well as airborne scientific instrument specialist Enviscope and other firms and research organisations.
"We were immediately enthusiastic about the plan to continue CARIBIC on our most fuel-efficient aircraft type," says Lufthansa Group corporate responsibility head Annette Mann.
"We are helping to ensure that particularly important climate-relevant parameters are collected just at the altitude where atmospheric greenhouse effects are largely generated."
IAGOS-CARIBIC co-ordinator Andreas Zahn says the aircraft conversion enables instrumentation to be deployed "cost-efficiently, regularly and over decades".
"We can therefore understand which processes are changing, to what extent and how they will influence Earth's climate in the future. No other observation system worldwide can provide such high-resolution multi-parameter data from the free atmosphere."