Arab Air Carriers Organization secretary general Abdul Wahab Teffaha is not ruling out possible future ties with Israeli entities, if the recent momentum of improved Arab-Israeli relationships eventually leads to recognition at a higher regional level.
Normalised diplomatic relations between Israel and a number of Arab countries have been achieved through the Abraham Accords initially reached with the United Arab Emirates and Bahrain in 2020.
The pact has led to new Arab-Israeli air routes, and closer co-operation between particular Arab and Israeli carriers including Etihad Airways and El Al, as well as an easing of certain regional airspace restrictions.
Teffaha points out that AACO is a trade association. Airline membership is conditioned upon registration in a country of the Arab League – a group of 22 states in the Middle East and northern Africa – and AACO does not necessarily have links to organisations with which its members are connected.
But speaking to FlightGlobal at the AACO conference in Abu Dhabi, he said "you never know" what could happen if individual Arab-Israeli country relations continue to improve and do not become a "thorny issue" at the higher level.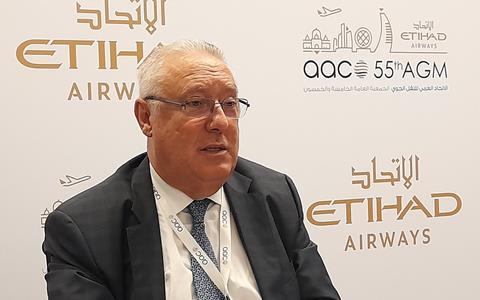 "We always believe that airlines thrive in peaceful situations," says Teffaha. "We don't like tension, we don't like wars, we don't like disputes. And peace is good for everyone.
"That is across the board. We don't like what's happening, the war in Ukraine, we don't benefit from that. And airlines are a bridge between the peoples of the world.
"We don't try to involve ourselves in politics. Politics has its own people."
He says that, as political relationships change for the better, so do the rules about contacts and connections.
"I'm not discounting anything in the future," says Teffaha, although he notes that Egypt and Jordan each had relationships in place with Israel decades before the Abraham Accords. He also refers to the "counterproductive" Israeli attack which destroyed the civil Gaza airport – the former base for AACO member Palestinian Airlines.
"At the level of the Arab League, still this relationship between the Arab world and Israel is not, at a regional level, not a relation of peace," Teffaha says.
"I hope it will reach that stage, because…we are 100% for peaceful co-existence – or actually existence; I don't like the word 'co-existence'.
"Peaceful relations between all the peoples of the world. Airline people are citizens of the world and this is how all the people in the world should be."