Environmental activities have managed to gain access to a stored Air France Boeing 777-200ER and spray it with green colouring as part of a protest against the French government air transport policies.
The aircraft – registered F-GSPB, a 1998 airframe fitted with General Electric GE90 engines – was parked at Paris Charles de Gaulle airport, having been withdrawn from service in March last year as the effects of the pandemic began to emerge. Activists took the action on 5 March.
Ahead of a parliamentary debate over a climate bill, the environmental group Greenpeace has accused the government of "greenwashing" and insists a reduction of air traffic is necessary to meet the commitments of the Paris climate agreement.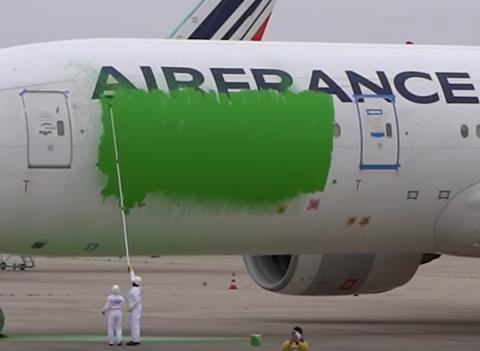 It claims that technological innovations "praised" by French transport minister Jean-Baptiste Djebbari will "not be enough to stem the climate crisis" and that regulation and reduction of air traffic are "essential".
"Measures proposed in the bill on this subject are far from the mark," it adds.
Greenpeace particularly highlights the continuation of airport expansion projects, and the development of rail alternatives to flight. It argues that the threshold duration for rail journeys to replace flights should be 6h, rather than the 2h 30min envisioned, and that rail development needs to be enhanced.
The group points out that plans to develop hydrogen power for future aircraft involves "significant technical challenges" and currently focuses only on replacement of short-haul types such as the Airbus A320 – rather than long-haul aircraft which are responsible for greater emissions.
"We are not against technological innovations, contrary to what some people [claim]," stresses the group. "We are simply saying that they will not be enough to solve the climate crisis."