Long-haul budget carrier AirAsia X appears to have slashed its orders for Airbus A330-900s by more than 60.
The airframer has listed 63 cancellations for the long-haul twinjet during March, and AirAsia X's commitment has fallen from 78 to 15 aircraft.
AirAsia X co-founder Tony Fernandes had been a vocal proponent for the A330's re-engining as the A330neo, and the carrier became its largest customer.
But none of those ordered by the carrier has been delivered and the onset of the pandemic, and the financial pressure experienced by AirAsia X, have thrown doubt over the prospects of the order being fulfilled.
The cancellation reduces the overall number of A330-900 orders by nearly 20%, to 262 aircraft, of which 69 have been delivered.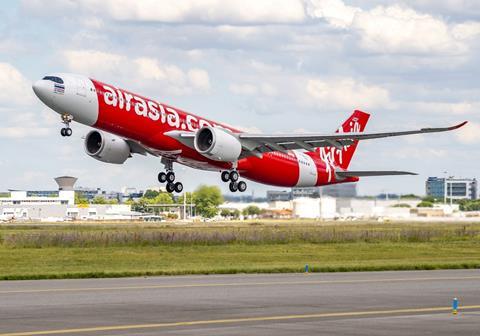 Airbus has slowed A330neo production to just two per month as part of its efforts to address weak long-haul aircraft demand and the broader effects of the pandemic on air transport.
But the setback for the long-haul programme has been partially mitigated by strong single-aisle orders during March.
Airbus recorded an order for 54 A321neo and A320neo aircraft, and a separate agreement for 46 A320neos, both from undisclosed customers.
It also listed an order for three A321neos from Spanish carrier Iberia and a single A320neo from a private customer.
For the first three months of the year net orders stood at 83 aircraft and Airbus achieved 142 deliveries.
Airbus has amended its overall delivery figures, however, to account for the inability to hand over a pair of Aeroflot A350-900s as a result of sanctions imposed on Russian carriers.