Airbus is expecting a relatively short approval campaign for the higher-weight version of the A330-900, amounting to just 30-40h of testing.
While Airbus carried out the first flight of the aircraft on 28 February, it had already conducted a number of tests with the previous variant of the -900 specially adapted to higher weight category, obtaining special authorisation to operate with the landing-gear under these conditions.
"It's not really a new aircraft," says development flight test chief Jean-Philippe Cottet. "We did a lot of testing of the [earlier] -900 at such weights."
These earlier tests included flight performance and noise assessment, enabling the campaign for the actual 251t version to be reduced.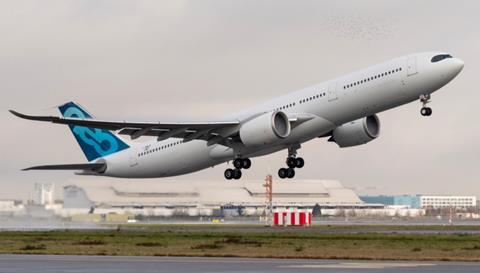 Airbus has reinforced structures on the higher-weight aircraft but, through a weight-reduction effort, kept the maximum empty weight and zero-fuel weight unchanged.
The 251t version has a modified landing-gear – which also extends the overhaul time from 10 years to 12 – but will not have to undergo a rejected take-off test, says Cottet, because previous testing covered the full range of take-off weights.
"It's not needed for certification," he says, but states that the test will be repeated when a new braking system, under development for the type, is introduced during the first year of service.
The higher weight will extend by some 650nm the range of the A330-900, compared with the previous 242t version, to 7,200nm with 287 passengers.
Head of widebody marketing Maria-Luisa Lucas-Ugena says the range change is "very significant" and the A330neo, as a result, is "becoming a true transpacific aircraft".
Airbus says the weight increase and the associated changes to the new variant cannot be retrofitted to earlier aircraft.
But the higher-weight changes for the -900 will also be applied to the -800 to produce a 251t version.
Airbus indicates that there is no immediate need to hike the weight capability of the A330neo further. "[We are] always listening to [our] customers' needs," it says. "However, at this time, the 251t is as much as the market currently expects."