Airbus is aiming to hike production of the A350 to 10 aircraft per month in 2026, returning to pre-crisis levels, while continuing to seek a four-per-month rate for the A330 in 2024.
The airframer had previously disclosed that it was looking to take monthly A350 production to nine at the end of 2025.
Airbus delivered 112 A350s in 2019, the last full year before the onset of the pandemic in early 2020 which forced the airframer to slash commercial aircraft output.
Chief executive Guillaume Faury says demand for commercial aircraft is "very strong" and there is a "continuing recovery in the widebody market".
But he adds that the supply-chain situation will "remain challenging" as the production ramp-up progresses.
Airbus is maintaining its expectation of delivering 720 commercial aircraft over the course of this year.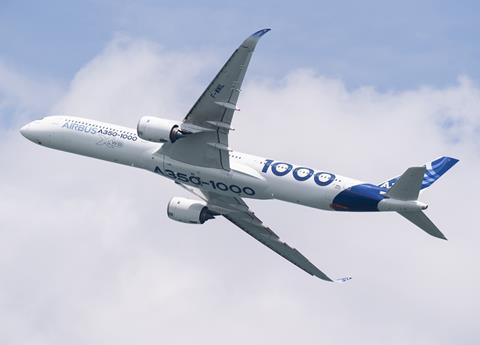 It is sticking with its target of achieving a 75-per-month output for the A320neo family in 2026, and is looking to reach a 14-per-month rate for the A220 in the same year.
Airbus gave the figures as it turned in commercial aircraft adjusted earnings of €960 million ($1.03 billion) for the third quarter – up 60% – and €3.2 billion for the first nine months of the year, an increase of 12%.
Faury says the nine-month earnings reflect higher commercial aircraft deliveries – the airframer handed over 488 jets to 30 September.
Commercial aircraft revenues for the period reached €31.5 billion, up by 18%.
"We continue to make progress on our operational plan in a global environment that has become increasingly complex," Faury adds.