Airbus is to develop a temporary A330 cargo-transport scheme enabling operators of the twinjets to remove seats and carry industry-standard pallets on the main deck.
The scheme will be developed through a supplemental type certificate in co-operation with German maintenance and modification specialist Lufthansa Technik.
Airbus says the programme – designated 'Cargo in the Cabin' – will be available for both the -200 and -300 variants.
Lufthansa Technik will own the certificate and supply kits for the modification to customers.
Airbus says it will provide technical data, validation for engineering, and calculation work to support the process.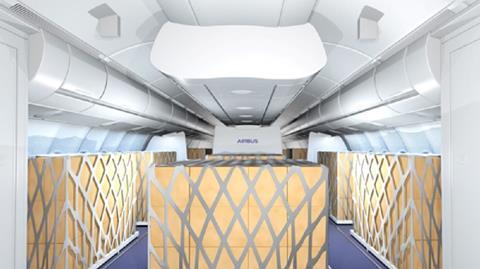 "In these times of reduced passenger traffic, our customers are looking for quick solutions to temporarily increase cargo transportation capacity in the cabin," says Airbus head of airframe services Daniel Wenninger.
Removal of the A330s' seats will provide about 78m3 of cargo volume on a -200 and some 86m3 on the larger -300.
This will allow the variants respectively to accommodate 12 and 15 PKC pallet positions, along with associated nets.
Airbus says the layout takes advantage of the aircraft's "good operational economics and versatile cabin".
Lufthansa Technik chief operations officer Soeren Stark says the two companies will "mutually benefit" and the A330 programme will "create a blueprint" for potential future tie-ups.