Airbus has announced the death of engineering icon Bernard Ziegler, the figure it credits with driving introduction of the commercial digital fly-by-wire technology which became a fundamental characteristic of the airframer's aircraft.
While Ziegler's legacy – the use of sidestick controls and the software which provided flight-envelope protection – emerged with the Airbus A320 more than three decades ago, it ultimately spread beyond Airbus, with similar technology featuring in a number of other modern types.
But during its early development and introduction, fly-by-wire was a revolutionary concept in civil aviation, and set Airbus's aircraft apart from those of rival manufacturers – which, at the time, included not only Boeing but Lockheed and McDonnell Douglas.
Ziegler believed there was considerable safety and efficiency margins to be gained by allowing the pilot's inputs to activate control surfaces not through conventional mechanical links but through electrical signals moderated by computers – without losing the sense and perception of a direct connection between control input and aircraft attitude.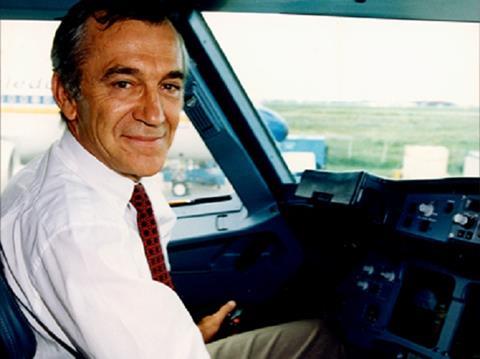 The son of Airbus Industrie's first chief Henri Ziegler, he joined the company as its chief test pilot in 1972 – carrying out the maiden flight of the A300 in the same year – following a career in the military as a fighter pilot, and test pilot, and an education in aeronautical engineering.
While the A300 and A310 were mechanically-controlled, hydraulically-actuated aircraft, Airbus used an A300B2 variant as a testbed for the fly-by-wire technology. Airbus had already started shifting cockpit design towards two-pilot operation before the A320, with its full fly-by-wire system, entered service in 1988.
Fly-by-wire has since become the foundation for all Airbus commercial aircraft, most recently on the A350, A330neo and the A330-700L – the outsize transport known as the BelugaXL.
Ziegler was part of the A340 maiden flight crew, and took part in an A340-200 circumnavigation from Paris Le Bourget – achieved in 48h 22min – with a single stop in Auckland, in 1993.
Several commercial aircraft manufacturers have adopted the sidestick and fly-by-wire architecture, including the Bombardier CSeries, now the Airbus A220, the Irkut MC-21 and the Comac C919.
Ziegler retired from Airbus, where he was senior vice-president of engineering, in late 1997. Over his service and career he received multiple honours and medals, and was given a lifetime achievement award by FlightGlobal in 2012. Ziegler was 88 years of age.