Airbus is evaluating potential impact of the coronavirus outbreak on production, particularly for twin-aisle aircraft, and acknowledges that it might have to store aircraft as tightening restrictions obstruct deliveries.
But the airframer is emphasising that it retains a strong backlog, especially in the single-aisle sector, which will help to reduce adverse effects on its business.
Airbus chief executive Guillaume Faury, speaking during a 23 March briefing, said that the twin-aisle market had already been dealing with an oversupply situation during 2018-19.
He says the actions in the air transport industry over the outbreak were "very likely" to result in further oversupply and that the airframer will have to "take decisions", based on one-by-one discussions with customers.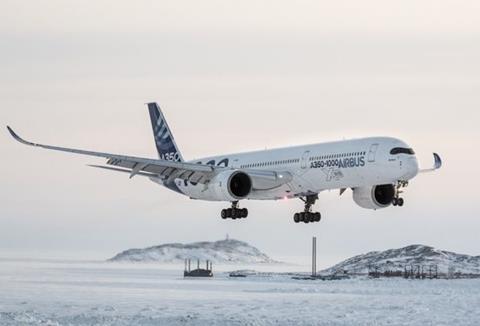 Faury would not be drawn on the overall effect on Airbus deliveries this year or the extent to which production might have to be trimmed.
"We're not trying to deny the obvious," he says, adding that "there will be a lot of consequences" but stating that the company needs to take time to assess and adapt – part of the reason for its unveiling of a new €15 billion credit package to enhance liquidity.
After suspending production temporarily – initially in China and then in France and Spain, all of which has since been restored – Airbus is "not putting priority on flow", says Faury, but rather on taking the steps necessary to achieve stability and a reasonable level of activity.
He says the increasingly tight restrictions on travel have put a "lot of additional difficulties" on the delivery effort, and that while the company had "managed to keep a certain flow", the airframer was looking at the possibility of storing completed aircraft.
Airbus deliveries during February were down slightly on the previous year, 86 against 88 despite the longer 29-day month, with fewer widebodies handed over, and chief financial officer Dominik Asam says the March figures will also be "tough".
Although coronavirus emerged in China, where Airbus has around 100 suppliers, Faury says there has been "no disruption" from the Chinese supply chain over the last few weeks and months.
But he admits that the situation is "becoming increasingly more complex" after the outbreak spread to Europe and the USA, and that Airbus is "anticipating more difficulties".
German manufacturer MTU Aero Engines is suspending operations at several facilities – initially Munich and Rzeszow, where engine components are produced – for three weeks from 30 March, citing "unstable material supply".
Without mentioning MTU specifically, Faury has expressed frustration over a three-week interruption to the supply chain, claiming that the situation was "not co-ordinated" and that Airbus will need to discuss the implications.
But he also points out that the airframer had already been stockpiling and preparing as part of its measures to cope with the UK's withdrawal from the European Union, and that this could offer "headroom" regarding the supply chain.
Airbus has previously stepped in to support financially suppliers which have been under pressure, but Faury says that consideration of any such measure in the current situation is "premature", although the company is "monitoring very closely" its suppliers.