Airbus chief Guillaume Faury is optimistic of near-term return to widebody aircraft demand, but remains cautious given the sensitivity of the sector to disruption.
Speaking at a capital markets briefing on 23 September, Faury said single-aisle aircraft orders had come back in "very large numbers" – as illustrated by recent agreements with Chinese carriers.
"It's starting, slowly but surely, on widebodies as well," he says. "It's probably telling us that there will be a moment when widebody orders will probably come, big time, and that's probably not very far out."
He says there are "lots" of campaigns in progress, and insists there is "life in the body".
"The body will be up and strong, and running fast, in my perspective, quite soon," he adds.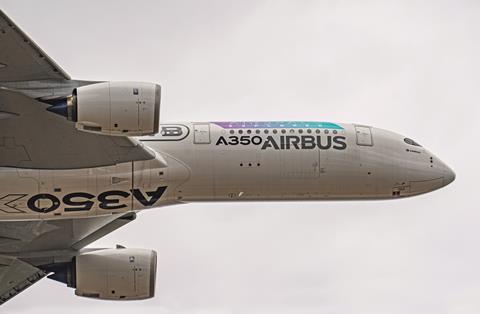 Faury says the reduction in production rates has resulted in a deeper backlog on widebodies, giving the company "a lot of visibility".
The airframer achieved break-even on A350 production in 2019, just before the onset of the pandemic, and Airbus has been aiming to repeat this, despite having halved the output to five aircraft per month.
"I don't want to be ahead of myself but we're very close to reaching break-even on the A350 at lower rates," says Faury.
While single-aisle activity is robust, he says, the demand situation with widebodies remains sensitive.
"You can change a lot of things in the world, and come to conclusion that [single-aisle aircraft] will remain a supply-constrained market," says Faury. "It very different from widebodies.
"We have to wait to see [the widebody recovery] to be sure it's coming. We want to be prepared. I think it's more likely to come than not."