Airbus has developed a removable cover for A350 integrated control panels, designed to protect vital systems from inadvertent liquid spills in the cockpit, after two incidents which preceded uncommanded engine shutdown.
The cover – which protects engine master levers, thumbwheels and rotary knobs – needs to be removed during critical flight phases, including take-off, approach and landing.
But outside of these, such as during the cruise, the cover must be fitted, according to a directive from the European Union Aviation Safety Agency.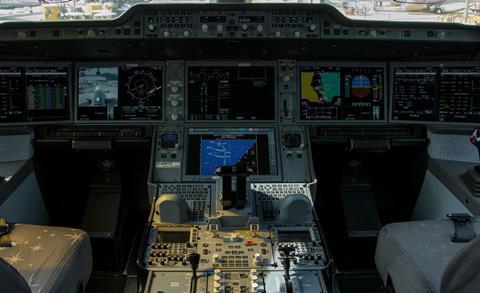 Spillage of beverages on the centre pedestal control panel, in the cockpits of a Delta Air Lines A350 in January and an Asiana A350 last November, each preceded engine shutdown and diversion.
Airbus introduced a temporary revision to the aircraft flight manual which defined a 'liquid prohibited' zone in the cockpit.
But the airframer has since developed the removable cover which EASA is instructing A350 operators to fit within 28 days.
The directive also includes instructions for use of the cover as well as master minimum equipment list considerations for operating the aircraft if the cover is damaged or missing.
EASA states that the directive remains an interim measure and could still be followed by further regulatory action on the issue.