Airbus has reversed its decision to offer an active anti-condensation system as an option for the long-range A321XLR, ditching the idea in favour of a passive system.
The dry-air generation system, for moisture control, is being removed as an option for the aircraft.
Swedish specialist CTT Systems had disclosed in early February that it had reached an agreement to supply an anti-condensation system as part of this moisture-control option.
The CTT installation had been intended to maintain a dry crown area and remove trapped water from insulation blankets.
Airbus would have taken delivery of the system in 2022. It is intending the A321XLR to enter service in 2023.
But CTT says Airbus has decided to "opt only for passive means" to reduce condensation in the long-range aircraft, and has requested that the Swedish company discontinue its development.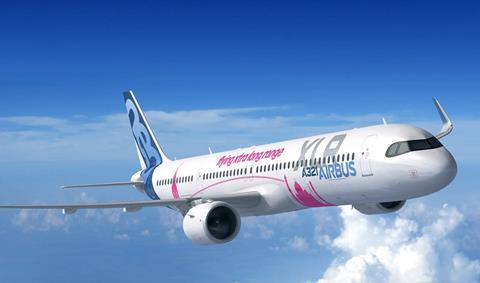 CTT says it has halted its work but "regrets" the Airbus decision. It is preparing to enter talks on the contract cancellation.
Chief executive Torbjorn Johansson, who had described the earlier agreement as a "breakthrough" for the company, says he is "concerned" by the reversal.
"[We] will continue to engage with Airbus to agree a constructive way forward," he says, adding that the company is trying to secure commitment for optional line-fit of the system on A320neo-family jets.
Johansson says he is "convinced" that the company's anti-condensation technology is sought by "many" customers for the Airbus single-aisle range.
CTT supplies moisture-control systems for various aircraft, notably long-haul types including the Airbus A380 and A350, Boeing 787 and 777X.