Airbus has dropped references to an interim monthly production-rate target of 65 aircraft for the A320neo-family programme, to focus instead on its ambitions to reach the higher output of 75 per month.
The airframer had been looking to achieve the figure of 65 by the end of 2024, and 75 in 2026.
Airbus chief executive Guillaume Faury, speaking during a half-year briefing on 26 July, said that the 65-per-month figure had served as a pandemic-recovery threshold because it represented Airbus's pre-crisis output.
But he argues that the substantial changes in Airbus's industrial base – the airframer is expanding to 10 A320neo-family final assembly lines – mean the current operation is "not comparable" with that of 2019.
"The target we're all pursuing now is rate 75," he states.
He says the highly-visible introduction of extra assembly lines are the "best proof" of the airframer's commitment to 75-per-month production, and "confirmation of the seriousness" of its intentions.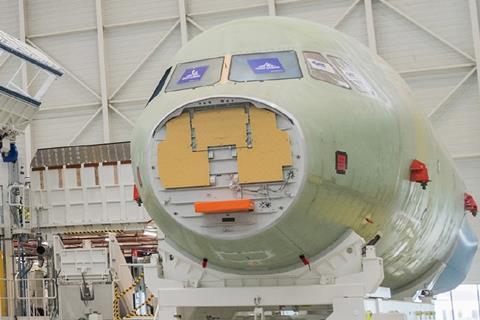 Faury insists the shedding of the 65-per-month interim target is "nothing to do" with the new "quality escape" issue affecting Pratt & Whitney PW1100G engines for the A320neo family.
"The two are completely independent and not related to each other," he says.
Faury adds that the airframer is trying to move away from frequent production-rate updates, claiming that they are not "meaningful", and focus instead on longer-term targets. He says this will bring "positive substance" to discussions.