Leaders of a project aiming to convert an Airbus A380 into a luxury hotel and restaurant are aiming to launch the scheme formally by the end of the first quarter.
The aircraft, which would otherwise be dismantled, will be fitted with 31 rooms, including two suites, with a 60-seat restaurant area attached.
It will be located at Toulouse airport, near the new MEETT convention centre and the Aeroscopia aerospace museum – and, of course, not far from the Airbus manufacturing facilities where the double-deck aircraft was assembled.
The team for the project, named 'Envergure', is led by an Airbus structural engineer, Frederic Deleuze.
Its members have been conducting feasibility studies on the various aspects of the proposal, including technical and regulatory requirements, and a search for partners and investors is underway.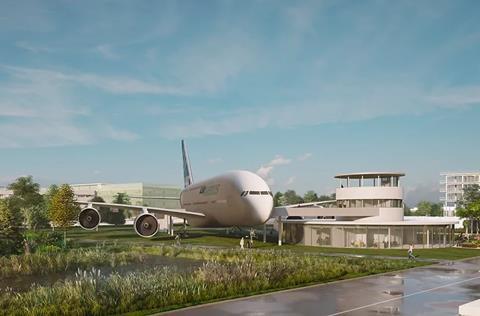 "The hotel will offer a unique experience in an unusual setting," says the project's promotional website.
It states that the team has met with real-estate, architectural and hospitality sector specialists, and sought assistance from institutes including the Toulouse chamber of commerce and Occitanie tourism fund.
On the aeronautical side, it claims, the search for a suitable aircraft and means of transport are "well-advanced" but "still require a few weeks of work".