Airbus does not envision a near-term certification of its A220 in China, but nevertheless expects eventual approval for the twinjet from Chinese regulators.
The airframer recently obtained agreements from four Chinese carriers covering close to 300 single-aisle jets – all from the A320neo-family range.
These included 100 for China Eastern Airlines and 96 for China Southern Airlines, plus a total of 96 for Air China and Shenzhen Airlines, with the larger carrier taking two-thirds of them.
Speaking on 20 July, Airbus chief commercial officer Christian Scherer said there was interest in the A220 from carriers "here and there" in China.
But he also stresses the "massive deal" with the major Chinese carriers, and hints at "possibly more to come", and says the presence of the A220 in China is "not an urgent question".
"Is there interest for this kind of aircraft in China? The answer is yes," he says. "Are we about to certify the aircraft in China? No – but do we expect it to come over time? Sure."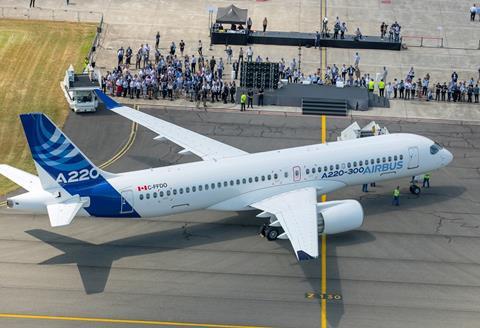 Several Chinese suppliers contribute to producing the A220, including manufacture of fuselage sections. The A220 would slot between the domestically-build Comac ARJ21 and C919, but Chinese operators have yet to commit.
Half of all the 762 firm A220 orders have been received from US customers, with France, Latvia, Australia and Canada accounting for another quarter, with only Korea and Vanuatu prominent in other Asia-Pacific countries.
Scherer says the market penetration of the A220 is "improving", adding: "We're placing the airplane everywhere, in all walks of life, all continents.
"Once we have a solid established customer base for the airplane, we'll most likely stretch the airplane."
But he emphasises that a potential stretch, while "extremely likely", is not an immediate objective.
"We're not near it," he says. "We're quite happy with the sales performance of the A220 now.
He says the A220 situation in terms of sales, production, and availability is "almost ideal" from a manufacturing perspective.
"So the programme's doing very well," he says. "We don't want to be 'too right, too early'. It would be wrong to be right too early with stretching this aircraft."