Airbus is expecting to reach an A320neo monthly production rate of around 50 aircraft by the end of this year, as it progresses towards ambitious output levels for the twinjet family.
Chief financial officer Dominik Asam gave his expectations for the close of the year during a capital markets briefing on 23 September.
He confirmed Airbus's target of 700 commercial aircraft deliveries this year, and acknowledged the back-loading of some 320 aircraft given that the airframer had achieved 382 deliveries by the end of August.
"We continue to focus on delivering aircraft in stock and almost ready for delivery – including the 'gliders', for which recovery plan is on track," he says, referring to aircraft still awaiting for the supply of engines to catch up.
Asam says the slower ramp-up of deliveries – pushing the intended monthly rate of 65 back to early 2024 – means "it will not be possible" to reach pre-pandemic delivery levels during 2023.
But he says this "snapback" should occur sometime in 2024, ahead of a further rate increase on the A320neo family to 75 per month in 2025.
As part of the hike to 75 aircraft Airbus plans to increase the capability of production of the largest variant, the A321neo, to 70%.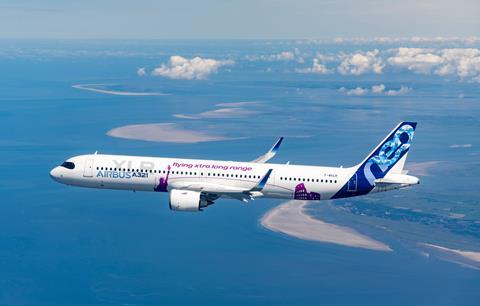 Asam says this variant, including the long-range A321LR and future A321XLR, is proving "versatile" to airlines for launching lower-density point-to-point routes.
But even the monthly increase to 75 A320neo-family jets will not enable Airbus to "fully satisfy" demand for the aircraft before 2028, he adds.
Once the delivery situation returns to pre-crisis levels, says Asam, the mix of aircraft will include a higher proportion of A320neo-family jets and a lower proportion of widebodies.
"This will have negative impact on revenues, unless the US dollar-euro exchange rate remains at current levels," he states.
Asam also points out that, although production rates for the A220 family – currently at six per month – are increasing, this higher volume "represents a headwind for the bottom line" because the programme has yet to reach break-even.
"We benefit less and less from utilisation of loss-making contract provisions," he adds.
But he states that Airbus has ambitions of reaching a monthly A220 build-rate of 14 by mid-decade and is continuing to progress towards achieving break-even on the programme, as it "advances through the learning curve".
Airbus is also "not so far off" overall break-even on its widebody segment, says Asam, and "expects to turn a corner" by 2023. The A350 had already reached break-even prior to the pandemic, he points out, while the A330 family was contributing "in meaningful way" to company profitability.
"We're very pleased with the good progress made on remarketing and de-storing some [widebody] aircraft," he says.
Delivering 700 commercial jets this year will be "anything but a walk in the park" given the disruption to global supply chains, says Asam, but he insists Airbus is "fully engaged" with its suppliers, partners and customers.
Over the second half of this decade, Asam foresees "significantly steeper" earnings growth potential from the "snapback" point onwards, as a result of higher production rates for widebodies – including the new A350 freighter – while stable high-volume output of A320neos will provide opportunities to offset higher research-and-development costs for launching next-generation products.