Airbus is exploring options to ensure modifications to the A321XLR's fuel tank do not impose a weight penalty that will significantly affect the aircraft's range.
The A321XLR – which is scheduled to enter service in the second quarter of next year – is intended to offer carriers the ability to fly routes up to 4,700nm.
But the large aft centre fuel tank which provides this range capability has also been the subject of new safety requirements drawn up by the European Union Aviation Safety Agency.
Airbus has developed an internal lining for the tank to reduce the possibility of a substantial fuel leak and fire in the event of an accident.
Executive vice-president for programmes Philippe Mhun told FlightGlobal during the Paris air show that the aircraft's range was not compromised by the modifications.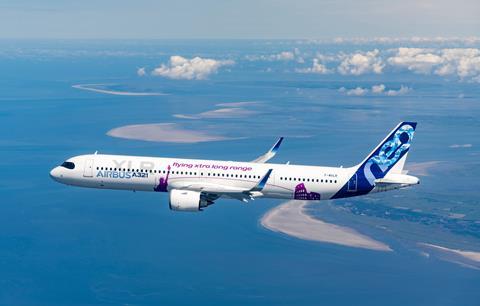 But Airbus chief executive Guillaume Faury, speaking during a half-year briefing, admitted that the airframer's method of addressing the EASA requirement involved additional weight.
"The way we've responded is a headwind," he says.
But he adds that there are "other areas of opportunity" and "reasons to believe" that the airframer can partially, if not completely, offset the impact.
He says Airbus aims to "come as close as we can" to the commitments it has given to A321XLR customers.
"The design is frozen, we're industrialising the solution, and flight-testing the [aircraft]," he states, adding that the airframer is mining data on the "full spectrum" of the twinjet's performance.
Faury insists the A321XLR will be an "unmatched combination" of range performance and comfort on board. "This will still be an incredible [aircraft]," he says.
Citing industry sources, news agency Reuters reported on 21 July that the changes to the A321XLR structure had resulted in a 700-800kg weight penalty and that the aircraft's practical range would be reduced by 200nm.