In-flight emissions tests of an Airbus A350 powered by 100% sustainable aviation fuel indicate that the fuel releases fewer particulates than kerosene, while analysis points to lower density but higher energy content per unit weight.
The tests have involved an A350-900 – powered by Rolls-Royce Trent XWB engines – chased by a Dassault Falcon 20, from the German DLR aerospace research institute, at in-trail distances down to 100m.
Airbus says the A350 conducted three flights over the Mediterranean to measure the emissions of Neste's sustainable fuel based on hydro-processed esters and fatty acids.
"The team also carried out compliance tests using 100% [sustainable fuel] and no operational issues were experienced during these initial test flights," the airframer adds. Current certification standards only permit a 50% blend of sustainable and conventional fuel.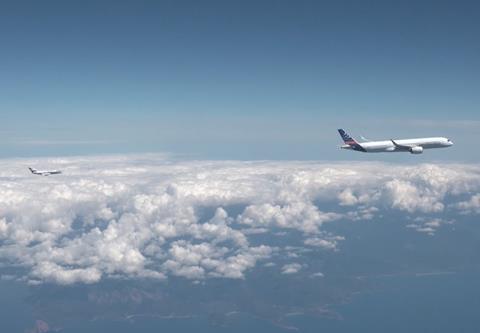 Airbus new energy programme manager Steven Le Moing says: "Engines and fuel systems can be tested on the ground but the only way to gather the full set of emissions data necessary for this programme to be successful is to fly an aircraft in real conditions."
Testing resumed this month with a second series of flight using both 100% sustainable fuel power and a blend of the sustainable fuel mixed with Jet A1.
Rolls-Royce says there is "no engineering obstacle" to running its engines on 100% sustainable fuel.
Airbus describes the early results from the tests as "promising", offering lower fuel weight and cleaner burn, suggesting better air quality and reduced climate impact.
The work – known as ECLIF3 – has been carried out as part of the Emission and Climate Impact of Alternative Fuels programme, and includes ground testing.
Results will be formally published towards the end of next year.
"Findings from the study will support efforts currently underway at Airbus and Rolls-Royce to ensure the aviation sector is ready for the large-scale use of [sustainable fuel] as part of the wider initiative to decarbonise the industry," says Airbus.
Neste vice-president for Europe, renewable aviation, Jonathan Wood adds that the project will "provide the data" to support operations using sustainable fuel at higher concentrations than 50% and "clarify the additional benefits" from its use.