Increasingly-blurred boundaries between traditional single-aisle and twin-aisle operations have spurred Airbus to simplify aircraft segmentation in its latest 20-year demand forecast.
Its outlook to 2041 increases the overall new delivery demand to 39,490 passenger and freighter aircraft – from the previous figure of just over 39,000 – across the next two decades.
Airbus breaks this demand down into 'typically single-aisle', making up 31,620 deliveries, and 'typically widebody' accounting for the other 7,870.
This simplification marks a further revision of the airframer's size classification.
It had previously established a new four-category segmentation – small, medium, large and extra-large – for its 2018 forecast, but subsequently dropped the 'extra large' classification a year later when the A380 programme was terminated.
Airbus senior vice-president and market forecast head Bob Lange says aircraft are being "utilised flexibly" across the "full scope" of airline operations.
With accommodation of 240 seats and range capabilities exceeding 4,000nm, single-aisle aircraft have increasingly encroached on widebody territory, while some carriers deliberately deploy widebodies on short-haul networks.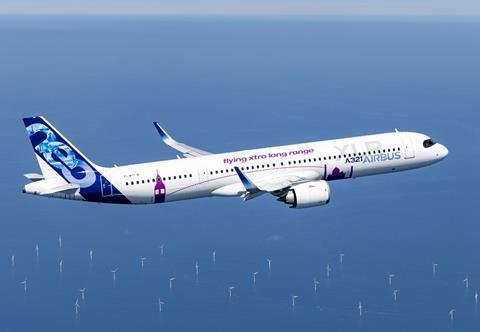 Airbus's reclassification is intended to align with this trend. Its previous forecast, covering 2021-40, included 5,340 aircraft in the 'medium' category.
But under this year's shift to a two-category classification these medium-sized have been re-assigned. Lange indicates that some 1,400 medium-sized aircraft have transferred to the 'typically single-aisle' category.
This raises the proportion of single-aisle aircraft in the delivery forecast from 76% last year to 80% in the latest outlook, with widebodies making up the other 20%.
Deliveries to the various world regions will largely follow this 80:20 ratio with the notable exception of the Middle East, where the split is closer to 50:50, while the airframer estimates Latin America's will be around 90:10.
Airbus's forecast is "exploratory", Lange points out, and is based on macro-economic assumptions that reflect stated policy scenarios including sustainable aviation fuel mandates, carbon dioxide prices, and decarbonisation measures.
"Fuel efficiency and environmental performance go hand-in-hand," says Lange.
As a result the proportion of new deliveries intended for replacement will remain high, at almost 40%, and "likely to increase further in the future", says Airbus, in order to achieve sustainability commitments in the sector.
Airbus expects new-generation aircraft will account for over 95% of the global fleet – compared with just 20% currently – by the end of the outlook period in 2041.
The airframer estimates passenger traffic will rise by 3.6% annually over this timeframe, based on pre-crisis levels in 2019.
"We see a lot of debate and conjecture about how passenger travel behaviour might change," says Lange. "We've chosen to model through economic data rather than opinions."
Airbus predicts the overall world fleet will increase from nearly 22,900 aircraft in service at the beginning of 2020, prior to the onset of the pandemic, to more than 46,900 over the next two decades.