Airbus expects the global freighter fleet to climb above 3,000 aircraft by 2041, with growth in the e-commerce sector outpacing that of general cargo over the next 20 years.
The airframer expects deliveries of 2,440 freighters over the two-decade period while the retention of some 630 current aircraft, including those delivered over the course of the pandemic, will lift the overall world freighter population by some 50%, to around 3,070.
These deliveries will include new-build and converted freighters, comprising some 560 in the 80t capacity sector, another 890 in the 40-80t range, and 990 in the 10-40t category.
This distribution marks, since last year's forecast, a slight shift towards the highest-payload end of the market, in which Airbus is trying to establish a strong presence with the development of its A350F.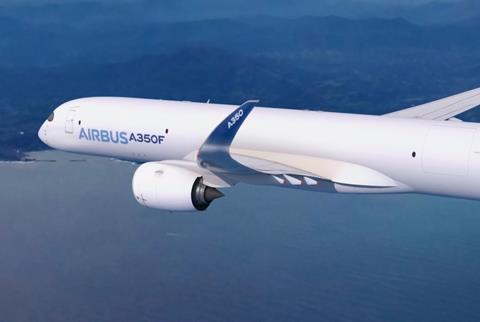 Some 1,400 of the deliveries will be used to replace older aircraft.
"When you look at the average ages of freighters, there's few that top 50 years, and many are 30 years old," says Airbus senior vice-president and market forecast head Bob Lange.
The balance of deliveries – more than 1,000 aircraft – will contribute to growth.
Over the next two decades, Airbus estimates, world air cargo will increase by 3.2% annually from the pre-crisis baseline of 2019.
But it puts the growth rate for e-commerce at 4.9%, far higher than the 2.7% of general cargo, and Airbus expects e-commerce to account for 25% of traffic in 2041 compared with the 2019 level of 17%.
Airbus is active in single-aisle and widebody conversions and has also started marketing its A300-600ST Beluga and A330-700L BelugaXL transports for outsize freight operations.