Airbus has hiked the payload capability of the A350 freighter, bringing it up to 111t from the initial level of 109t.
Senior vice-president for widebody programmes Florent Massou disclosed the higher figure during a briefing on 14 June.
The aircraft emerged towards the end of 2021 and has so far secured 39 firm orders. It will enter service in 2026.
"We've progressed so well on the design we can add already 2t more, for more revenues with the airlines, and more efficiency overall with the platform," says Massou.
He adds that the payload rise will enable the aircraft to make a "bigger difference" when compared with competing models.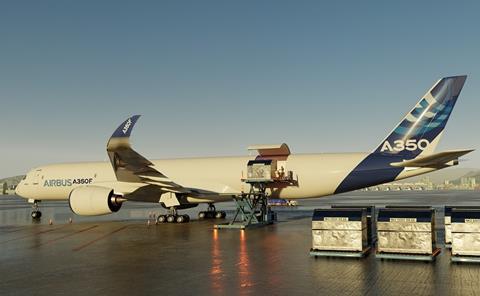 Massou says the A350F will offer an alternative to Boeing's monopoly in the new-build freighter sector.
He says Airbus is co-designing the aircraft with customers to address "more than 75 pain points" with which freighter operators have had to deal.
"The A350 freighter will fix the reality they've been facing for years," insists Massou.
Among the features of the aircraft will be a 175in (4.44m) wide main-deck cargo door, larger than the 146in door on the Boeing 777F and the Israel Aerospace Industries 777 conversion, as well as the 160in of Mammoth Freighters' modified 777.
"This is the widest door in the market," says Massou. "[No other] product can be compared to the door of the A350F.
"Having a big door allows much [easier] operations when it comes to loading the aircraft, when it comes to having some difficult packages you want to fit into your platform."