Airbus is unmoved by Emirates Airline president Sir Tim Clark's plea for a modernised version of the A380, insisting that its A350-1000 is a suitable successor as well as a strong candidate for Boeing 777-300ER replacement.
Emirates is the largest operator of A380s and Clark, undeterred by Airbus's cessation of A380 production, still believes a re-engined version would be highly efficient.
But Airbus is not considering aircraft larger than its A350-1000, said widebody programme senior vice-president Florent Massou, in a pre-Paris air show briefing, pointing out that even the proposed stretched 'A350-2000' is not being entertained.
"There is no -2000 study ongoing at the moment," he says. "That was done in the past in very specific conditions.
"Today we believe the -1000 is the right size, in particular to make sure the airlines operating the -900 can [increase capacity or] replace the 777-300ER."
He says the -1000 is "large enough" and the "perfect size" for the 777-300ER replacement wave ahead, adding that the Airbus twinjet has "more range and much better efficiency".
"This is the natural platform to take the lion's share of 777 replacement. This is where we see the market in the next few years."
Massou says Airbus working closely with Emirates to ensure the A380 continues to fly with the Dubai-based carrier "as long as possible".
"We'll deliver the -900 [to Emirates] next year with a brand new configuration and this will be an outstanding cabin and outstanding aircraft for Emirates," he says.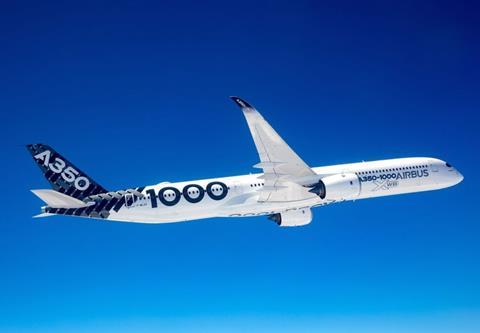 Airbus is continuing to tweak the A350 to enhance its performance, introducing a wider interior – enabling 10-abreast economy-class cabins – and reworking the forward and aft door areas to expand crew working space.
Massou says the twinjet will benefit from weight-reduction efforts from 2026 – trimming 400kg from the -900 and 600kg from the -1000 – through the use of new materials and new assembly processes which are saving "grammes and kilogrammes, a bit everywhere on the aircraft".
Software improvements, he adds, enable new take-off configurations and better landing-gear retraction.
Airbus commercial aircraft head of marketing Stan Shparberg says the A350-1000 is the "flagship product" for the airframer, adding: "We believe it's got the right ratio of risk versus reward, the number of seats in premium and economy configuration."
He stresses his enthusiasm for the A380 as a passenger, but states: "Do we really need to close the gap to the A380? Do we need to have double-deckers flying out there?
"I think the A350-1000 is very capable to take over from the A380s and 777-300ERs and be the aircraft of choice for a lot of our customers."