Airbus A220s have helped lift the airframer's total global operational single-aisle fleet into five figures, according to the company's latest backlog data.
Its official single-aisle fleet total passed the 10,000 mark in July 2022.
Almost three-quarters of these aircraft – some 7,466 – were older A320-family jets, including just over 4,300 of the regular A320, the model which still dominates the fleet.
The re-engined A320neo family accounts for 2,331 airframes.
But the acquisition of the A220 programme in 2018 adds a further 223 to the single-aisle total, taking it to 10,020 – although technically 37 A220s were actually delivered by Bombardier as the CSeries.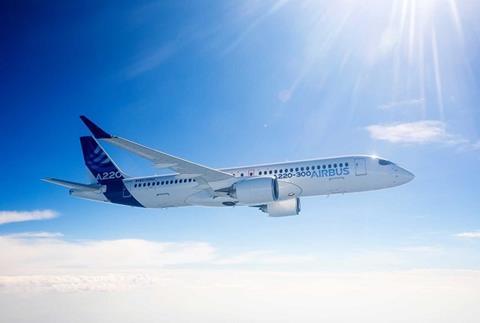 The global fleet of Airbus single-aisle aircraft passed 5,000 almost exactly 10 years ago, in June 2012.
Immediately prior to the pandemic this fleet was increasing by over 600 aircraft annually, but this rate fell back to around 400 during the crisis.
Airbus listed 10,664 single-aisle deliveries at the end of July including 10,441 A320- and A320neo-family jets.