Airbus has taken delivery of an A330-200 converted from a passenger to freighter configuration, ahead of its being handed over to an Asian operator.
The aircraft underwent modification at the EFW facility in which Airbus is a partner.
EFW identifies the airframe as MSN810, a Rolls-Royce Trent-powered example which was originally delivered to Air China in 2007.
It says the twinjet is the first A330P2F that EFW has redelivered to the airframer.
The conversion organisation says the aircraft will be the first Airbus jet in the fleet of its eventual operator.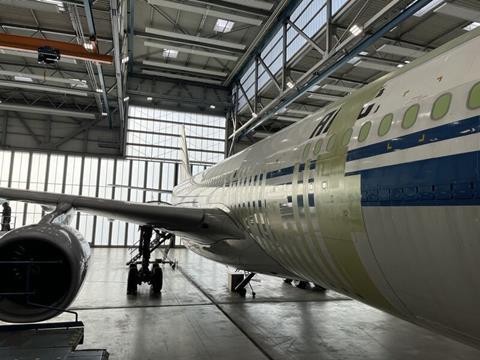 EFW has not disclosed the operator involved, stating only that it is an Asian carrier with a "white-green livery".
Turkmenistan Airlines – which has not previously used Airbuses, and has a white-and-green livery – ordered a pair of converted A330-200s in 2021.
EFW has also recently delivered a modified A330-200 to Altavair, which will be operated by Air Belgium. The aircraft, MSN717, is an ex-Etihad Airways twinjet powered by Trent engines.