Turkmenistan Airlines has ordered a pair of Airbus A330-200 converted freighters, the first time the Central Asian operator has signed for the airframer's aircraft.
The aircraft are set to be delivered in 2022, following the modification work.
Airbus has not detailed the source of the airframes to be converted.
Turkmenistan Airlines' fleet comprises Boeing 777-200LRs, 757-200s and 737s as well as a range of helicopters, executive jets and Ilyushin Il-76 freighters.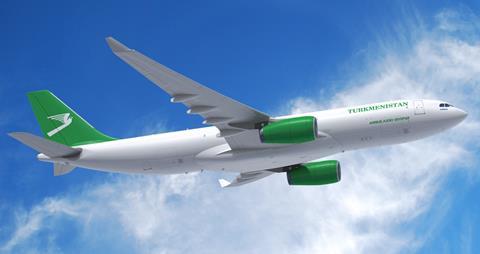 "The order marks the first time an Airbus aircraft is sold in Turkmenistan," the airframer states.
It says the converted A330-200s will allow the carrier to "further develop and boost its international cargo route network".
Airbus offers a new-build A330-200F but also tied up with ST Engineering to provide conversion of older A330s through their joint venture EFW.
EFW is able to convert both the -200 and -300, with customers including DHL and EgyptAir.