Airbus has set up a new commercial outsize transport service intended to capitalise on the remaining flying life of its A300-600ST Beluga fleet, as it phases out the type from its main internal logistics operation.
The Airbus Beluga Transport service has already carried out its first work, with aircraft F-GSTC lifting a heavy helicopter from Marignane, near Marseille, to the Japanese city of Kobe at the end of last year.
This long-haul operation involved technical stops at Warsaw, Novosibirsk and Seoul.
Airbus says the Beluga fleet – which is being replaced by the larger A330-700L BelugaXL – has reached only half of its service life, having flown around 15,000 cycles compared with the upper limit of 30,000 cycles.
The airframer is aiming to attract civil or military customers, not only in the aerospace industry, but the energy, space, maritime and humanitarian sectors.
Head of Airbus Transport International, the internal logistics operator, Phillippe Sabo says there were "lots of lessons learned" during the Kobe flight which will help the company prepare for its new venture.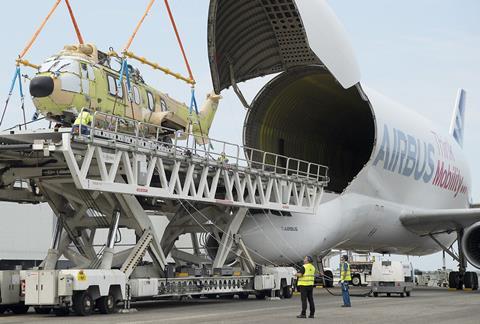 Airbus Beluga Transport project leader Clement Beaunis says the Beluga will be a complementary offering to the niche outsize market, which is served by aircraft types such as the Antonov An-124.
Beaunis says that, while the An-124 is "very good at heavy payloads", the Beluga, which has a 40t capability, can provide a large-diameter fuselage to handle tall and wide shipments, including engines, without the need to dismantle them.
Five Beluga twinjets have been used by Airbus, and two – registered F-GSTB and F-GSTC – will initially be deployed for the new service.
Once the entire BelugaXL fleet, six aircraft in total, is made available to Airbus for its internal operation, the airframer will establish a new subsidiary airline with its own air operator's certificate to take on all the older Belugas as they are phased out.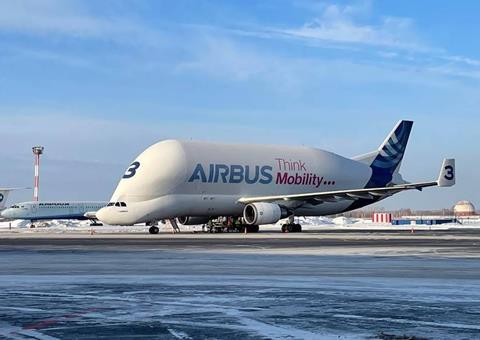 Airbus has developed three technical innovations to adapt the Beluga to its new role. Because the aircraft has a rail structure on which customised jigs are loaded, when transporting aircraft sections, the airframer has developed a multipurpose pallet on which various payloads can be fitted.
Beaunis says some 27 of these 2m pallets have already been produced, sufficient for the first two Belugas. The upper surface is flat, enabling helicopters or vehicles to be rolled on and off, and the pallets have a multitude of anchor points, placed every 20cm, he says, so loaders can "quickly lash any payload down".
He adds that these pallets will provide the "flexibility and reactivity our customers will expect".
The other innovations focus on the external loading and unloading infrastructure. Airbus has developed an outboard platform – the first of which is available – which can be assembled in a day, and set up in strategic locations, to assist with retrieving or loading cargo from the jet.
It has also designed an alternative on-board loader, available from June, which can be carried in the aircraft, and be rigged in about 1h. The loader sits over the cockpit and is able to lift loads of up to 20t and 12m in length.
"We've been approached by several companies asking if the Beluga is available for charter flights," says Airbus business development and strategy manager Reza Fazlollahi.
He says the company has been learning about new markets, working with freight forwarders and brokers to understand the challenges involved, in order to launch the "tailor-made" service. Customers, he says, are looking for aircraft availability, reliability and cost-efficiency.
Airbus will initially base the Belugas in Toulouse but, as the new operation develops, locate and deploy them in accordance with the missions they are required to perform.
Beaunis says the aircraft will undergo a number of modifications for the new service, such as the installation of a fire-protection system. The aircraft will be able to operate transatlantic services, with extended twin-engined operations of 180min, using fuel stops in places such as the Azores or Canada.