Airbus has shifted the timeframe for a potential ramp-up of single-aisle production to the beginning of the third quarter of 2021.
Speaking during a third-quarter briefing, Airbus chief executive Guillaume Faury said the airframer had "pushed to the right" the possible starting point to raise production – from the second quarter to the third – but underlined that he was "not calling it a ramp-up expectation".
"It's important to stress the crisis is far from over," he says.
He argues that the company sees "demand", supported by contracts currently in place, for ramping up in the second half of 2021 and the company wants to "make sure the supply chain is prepared".
Faury says the reduced single-aisle production rate of 40 aircraft per month has proven "robust".
"So far it has played out correctly for us," he says, adding: "We plan to maintain rate 40 until at least summer next year."
Any increase in rate beyond that point, to meet customer contracts, would be "gradual and modest", Faury says, confirming to analysts on 29 October that the current "improved" production planning shared with suppliers features a monthly figure of 47 aircraft for the second half.
"It's backed by the backlog," he stresses. "It's not speculative, it's robust."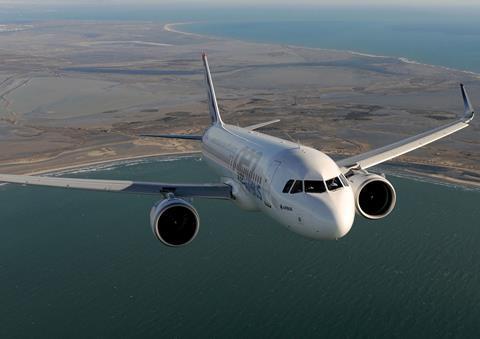 Although Airbus was caught "off-guard" as the crisis emerged in March, he says, the current situation is "much different" with "lots of specific and dedicated organisation" in place to deal with the complexity of production and customer deliveries.
He says the third quarter performance has remained in the "corridor of expectation" but adds that the company must stay "very humble" in the face of "so much uncertainty".
Faury says the financial pressure on the supply chain is still an "area of concern" and that Airbus and its suppliers need to "navigate the situation together".
Although Airbus is preparing suppliers for potential ramp-up next year, Faury says this is limited to single-aisle output.
"We don't anticipate ramp-up [of long-haul production] as on the single-aisles in the foreseeable future," he says.
The A350 monthly rate remains at about five aircraft which, says Faury, "underpins what we think about recovery of traffic on long-distance flights" – adding that it is "not unreasonable" to believe such a recovery will only begin once a vaccine to address the coronavirus outbreak is in place.
Although Airbus has given guidance on free cash flow for the fourth quarter, it is not giving estimates on aircraft deliveries for the final three months of this year – a period which has typically been particularly busy for the airframer.
Faury says there is a "complexity" in predicting deliveries in the current environment, but the "reference point" of a 40% reduction has "exactly fitted" the situation at the end of the third quarter, and the airframer wants to maintain its newly-achieved convergence of production and deliveries through to the end of the year and into 2021.