Airbus has unveiled conceptual designs for a potential zero-emission commercial aircraft, which it believes could be developed for service entry in the next 15 years.
All three of the preliminary designs – branded as 'ZEROe' aircraft – would use hydrogen as the main power source.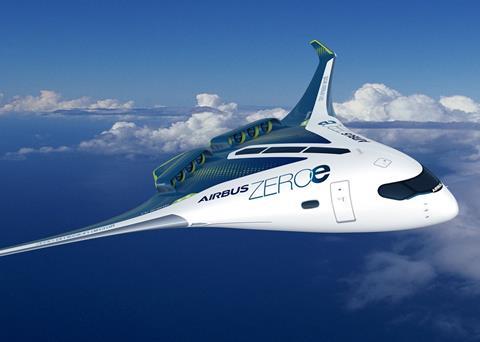 Airbus's most radical proposition is a blended-wing body concept, seating up to 200 passengers, which would have a range of up to 2,000nm.
It has also shown off a more conventional-looking turbofan idea – with a similar range – which would be fitted with modified hydrogen-fuelled gas-turbine combustion engines.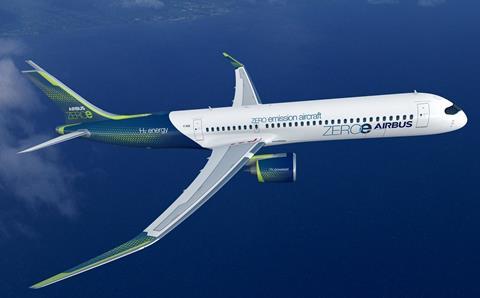 This concept would involve storing liquid hydrogen in tanks behind the aft pressure bulkhead.
Its third proposal is a 100-seat turboprop, also using modified gas turbines, able to operate over a range of at least 1,000nm.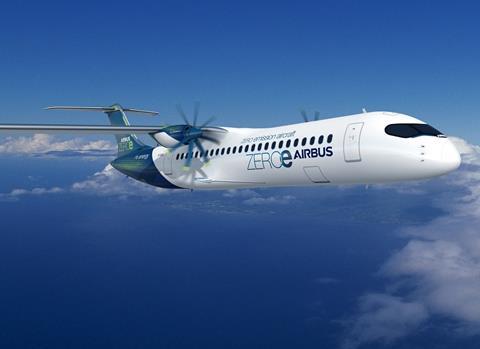 Airbus says hydrogen "holds exceptional promise" as a fuel for zero-emission transport.
"[It is] likely to be a solution for aerospace and many other industries to meet their climate-neutral targets," it adds.
The airframer claims the aircraft outlined could potentially enter service by 2035 – a date which has been suggested by the French government for development of highly-efficient regional aircraft and an Airbus A320 successor.
These targets had been included in a recent €15 billion aid package from the French government to the country's aeronautical sector.
Its strategy, based on improved fuel consumption and examining the potential of zero-emission hydrogen-based technology, suggests an initial demonstrator could be produced by 2026-28 and enter service in 2033-35.
Airbus chief executive Guillaume Faury says the concepts offer a "glimpse of our ambition" to "drive a bold vision" for zero-emission flight.
"I strongly believe that the use of hydrogen, both in synthetic fuels and as a primary power source for commercial aircraft, has the potential to significantly reduce aviation's climate impact," he adds.
But he warns that, for such designs to be validated and eventually materialise, the transition to hydrogen power will require "decisive action from the entire aviation eco-system".
"In order to tackle these challenges, airports will require significant hydrogen transport and refuelling infrastructure to meet the needs of day-to-day operations," adds Airbus, pointing out that government support to meet the objectives will be essential.