Airbus has confirmed that the A350 freighter will be 3m shorter than the A350-1000 but 4m longer than the -900.
The airframer puts the A350F's overall length at 70.8m compared with the 73.79m of the -1000, but the wingspan remains the same.
Diagrams from Airbus indicate that the frame reduction is forward of the wing.
Airbus gives the range of the new freighter as 4,700nm (8,700km) and confirms the maximum payload at 109t.
The aircraft will have a maximum take-off weight of 319t, matching that of the heaviest -1000 weight variant, and a maximum landing weight of 250t.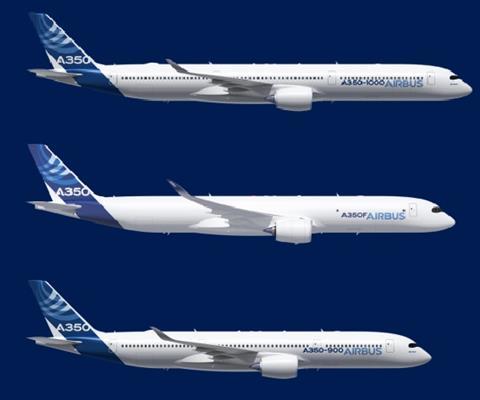 Its cargo hold will be capable of accommodating 30 AM containers or pallets on the main deck, plus 12 pallets or 40 LD3 containers on the lower deck.
Singapore Airlines, Air France, lessor Air Lease and cargo operator CMA CGM have all signed up – either firmly or provisionally – as customers for the new aircraft, which will be fitted with an aft cargo door and powered by Rolls-Royce Trent XWB engines.
"The A350F leverages all the benefits of the A350 to help large widebody freight operators make a clean start towards a more sustainable and profitable future," says Airbus, adding that the aircraft is "perfectly poised" as a replacement airframe in terms of volume, range and payload.
It states that the aircraft will be "lighter than competitors", and more resistant to corrosion, as a result of its composite structure, adding that it will provide a "step change" of 40% in economics and fuel efficiency improvements against older-generation models.