Airbus is expecting the single-aisle market to recover faster than the long-haul sector, but the airframer is stressing that the pattern of deliveries is the most difficult part of its business to forecast.
It has not offered any guidance in its newly-issued first-quarter financial statement.
Airbus chief executive Guillaume Faury, speaking on 29 April, said the airframer had been unable to deliver 19 aircraft to Chinese operators in February, as the coronavirus crisis began to take hold, and the company delivered only 36 aircraft worldwide in March.
Around 60 aircraft were left undelivered during the quarter – mainly for logistics reasons – and Faury says the number of deliveries over 2020 is "the most difficult part to predict today".
The airframer is holding "airline by airline, aircraft by aircraft" discussions with customers, he says: "We have some short-term agreements with the majority of airlines, but we need to find some more mid-term."
He says total deliveries in the second quarter will "remain very low" and that the number of undelivered aircraft will "continue to go up before it goes down".
Faury expects the level will start to fall in the third quarter, as increasing numbers of customers find they are able to travel more easily, but emphasises that the situation remains "very dynamic" and that Airbus is "running different scenarios".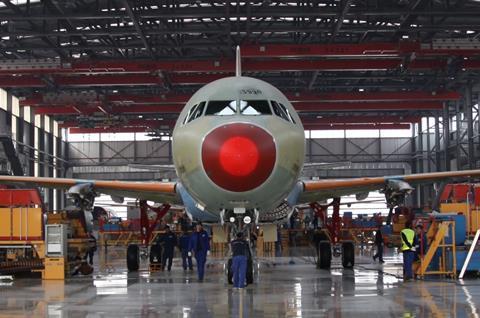 There are indications from airlines that single-aisle activity is likely to recover faster than that for twin-aisle aircraft, he says, but the timing and pace of this recovery is unclear.
"Our assessment for single-aisles is not that gloomy," says Faury. But he adds: "We think we'd be wrong to try to be right too early."
Airbus is bringing monthly A320 production down to 40 aircraft from 60, but Faury says customer discussion lead him to believe the demand will increase again. Having demonstrated that its industrial system can handle a 60-per-month output, the airframer is eager to avoid letting the line turn stale.
"It's easier to ramp down than to ramp up," says Faury. "So what we want to preserve in the next months is the ability to go back to 60 – and not too slowly."
The additional A321neo assembly line in Toulouse has been put on hold until demand can justify investing to increase single-aisle production rates.
"Recovery from 40 to 60 could be quick," says Faury, because the industrial system is already in place and is "not too damaged".
Airbus chief financial officer Dominik Asam echoes that the second quarter "will be the toughest one", and that the manufacturer is uncertain whether there will be a "snapback" in deliveries or whether inventory will be "piling up", requiring a further adjustment in production rates.