Airbus is aiming to replace the mechanical rudder controls on A320neo-family aircraft, switching to a full electric rudder system by early 2024.
The modification will coincide with the entry into service of the long-range A321XLR which is being developed with the 'E-rudder' architecture in mind.
While the initial delivery had been intended at the end of this year, with an A320neo powered by CFM International Leap-1A engines, Airbus says it is "reviewing the introduction scenario" given the disruption from the pandemic.
The E-rudder will become standard on the A319neo, A320neo and A321neo range. But it will not be fitted to conventional A320-family jets, nor will it be available as a retrofit.
Under the current A320 and A320neo fly-by-wire architecture, seven computers – two flight-augmentation computers, two elevator-aileron computers, and three spoiler-elevator computers – handle the flight-control surfaces.
But although the flight-augmentation computers provide input for yaw damping, rudder travel limit and trim, the rudder system retains mechanical linkages between the pedals in the cockpit and the hydraulic rudder actuators.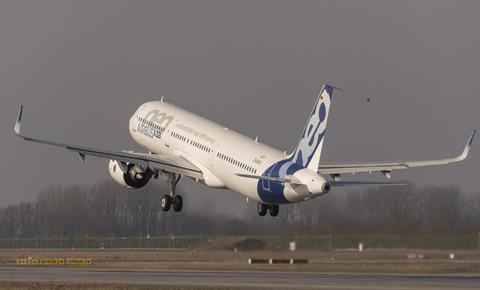 The E-rudder programme will replace the mechanical interface with an electrical one, saving some 40kg in weight by enable the removal of several fixtures and three computer units.
Both flight-augmentation computers and one of the spoiler-elevator computers will be withdrawn, along with the yaw-damper and rudder-trim actuators, and the travel limiter unit.
Conversion to the E-rudder system involves installing a new rudder-pedal unit in the cockpit, new rudder-position sensors, and a back-up control module.
The rudder will be controlled through the two elevator-aileron computers, for normal law, and the two remaining spoiler-elevator computers, plus the back-up module, in direct law.
Airbus will also reconfigure control of the inboard spoilers, which were previously tied to the third spoiler-elevator computer.
The primary flight-control computers will have updated hardware and software, and software changes will be made to several others, while the rudder-actuation systems will be modified.
"Ramp-up will be done over 2023 to standardise E-rudder by early 2024," says Airbus, adding that the simpler system will save fuel and reduce maintenance costs.
Suppliers including Thales, Safran, Collins and Liebherr are participating in the equipment updates for the programme. Airbus adds that no relocation of the computers in the avionics bay will be necessary.