Airbus is to ensure that all four of its A320neo-family assembly centres, including its Chinese facility, are capable of producing the larger A321neo variant.
The airframer's chief executive, Guillaume Faury, disclosed the plan during a third-quarter briefing, as the company prepared to start final assembly of the latest version of the twinjet – the long-range A321XLR.
Airbus has recorded strong demand for the A321neo. It accounts for 48% of all A320neo-family orders and the backlog for the aircraft stood at over 3,000 at the end of September.
Over the first nine months of the year the company delivered 137 A321neos, as well as 18 A321s, out of a total of 341 jets from the family range.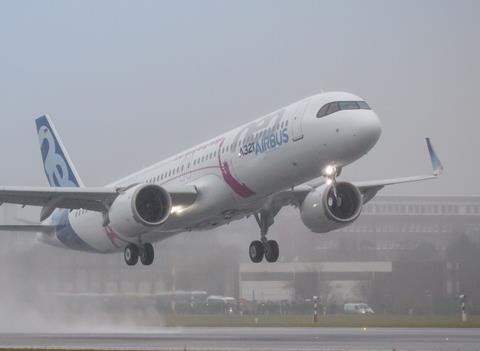 Airbus's main site for A321neo and A321 production is Hamburg Finkenwerder.
Its Mobile facility is capable of producing the variant, and Airbus has been developing a flexible final assembly line in Toulouse for A321neo manufacture, which will become operational around the end of 2022.
But Faury says the company has "decided to upgrade" the Tianjin single-aisle facility to include A321neo production, estimating that deliveries from the site will start in 2023-24.
"We're in the process of converting all production systems to the A321, and there's also demand in China for that product," he states.
Chinese operators accounted for about 20% of deliveries last year and Faury expects a similar figure for 2021. Although production rates have slowed, he says the backlog to China is "going down" as a result of a scarcity of orders, but expects the situation to pick up because Chinese carriers will want to secure future slots.
Airbus has maintained the development pace of the A321XLR, its latest iteration of the single-aisle variant, despite the air transport crisis.
Faury says the main sections of the initial aircraft – including the UK-build wings, the rear fuselage from Hamburg, and the nose from St Nazaire – are set to enter the final assembly line "in the coming days".
Airbus is planning service entry for the A321XLR in 2023.