Airbus's latest 20-year market forecast expects that the overall global fleet in 2042 will be smaller than the 2038 fleet predicted in its outlook four years ago.
The airframer puts the worldwide fleet for 2042 at 46,560 aircraft – down by more than 1,100 on the figure it had originally estimated for 2038.
Airbus attributes this shrinkage – despite a rise in deliveries – to a probable acceleration of fleet renewal, with older aircraft being replaced with the most fuel-efficient types. It foresees total demand for 40,850 new deliveries of which 42% will be used for replacement.
"The proportion of demand to replace older aircraft is likely to increase further going ahead, to achieve the sustainability ambitions and commitments by the sector," says the airframer.
It states that only 25% of the in-service passenger fleet comprises latest-generation aircraft. "The short-term priority for decarbonising…is to replace the remaining 75% previous-generation fleets," it adds.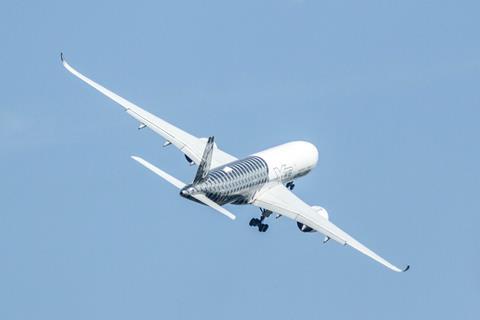 Airbus's demand outlook is higher than last year's figure of 39,500.
But head of business analysis and market forecast Bob Lange points out that there has been a recent "lack of retirements", compared with the average.
He says the supply-constrained environment has spurred extension of leases and the "take-out point" has been shifted back by two or three years. The higher demand figures are directed at replacement, rather than growth.
Airbus is highlighting a sharp rise in the overall delivery demand forecast for China since last year, leaping by more than 1,000 aircraft to 9,440.
Lange says there is a "degree of resistance" within the Chinese market to taking used, rather than new, aircraft.
He adds that the impact of the pandemic in China created particular difficulties in delivering new aircraft, and generated a "Covid hole".
Eighty percent of total global deliveries over the next 20 years will typically be single-aisle models, accounting for 32,630 aircraft. These will be complemented by 8,220 typically-widebody aircraft including 920 new-build freighters.
Airbus puts overall freighter demand at 2,510 aircraft with conversions making up the balance of 1,590 airframes. The world freighter fleet will increase to 3,230 aircraft by 2042, compared with last year's forecast of 3,070 by 2041.
"There's still a lot of old freighters to be replaced," says Lange. Some freighters are being parked as the sector emerges from a period of "massive growth", he adds, but this amounts to an "adjustment" rather than a "slowdown".