Airbus is backing away from battery power in favour of pursuing hydrogen as a primary propulsion source for future aircraft development, over concerns that battery technology will not advance quickly enough to adapt to large airliners.
The airframer has unveiled three conceptual designs – two based on conventional turboprop and twinjet airframes, plus a third featuring a blended-wing fuselage design – as it commits to exploring a hydrogen-based zero-emission aircraft for potential service entry in 2035.
Speaking during a 21 September briefing, Airbus head of zero-emission aircraft Glen Llewellyn said that the airframer has seen a "decoupling" between the speed of battery technology progression and this 15-year timeframe.
"Batteries are not improving at the rate needed to achieve that ambition," he says.
As the pandemic-driven air transport crisis forced a rethink on investment priorities, Airbus curbed its E-Fan X hybrid-electric demonstrator programme earlier this year, before the modified BAE Systems Avro RJ100 carried out its first flight.
While batteries are "still interesting" for smaller vehicles, such as urban mobility applications, hydrogen has a far greater energy density than even the best batteries, says Llewellyn, closer to the levels demanded by commercial aircraft.
He adds that a transition to a hydrogen eco-system is necessary to provide the power to generate liquid synthetic fuels, pointing out that Airbus aircraft are already certified to take fuel blends with a 50% synthetic component. Such "e-fuels", he says, provide a "very big lever" for reducing carbon dioxide emissions and have "a lot of potential".
The propulsion model involves a gas turbine combusting hydrogen in a similar manner to the combustion of jet fuel. This turbine would have an electric motor, driven by fuel cells, capable of injecting power into the shaft of the turbine.
"Concepts show we can do this with rather conventional aircraft configurations," says Llewellyn. "But we know from our analysis [that] we may achieve a better performance with a more disruptive aircraft design."
He points out that the blended-wing fuselage proposal has more volume, adding that one of the challenges of using hydrogen is its greater volume per unit energy compared with jet fuel.
"Blended-wing bodies inherently have more volume," he says. "[They're] already adapted to that."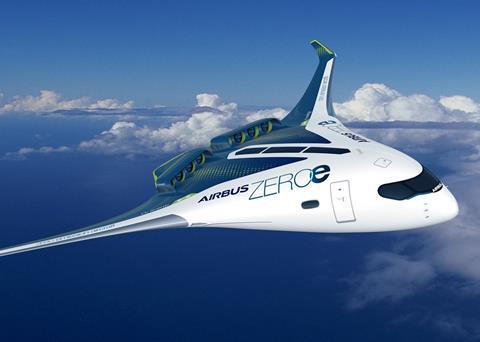 The aircraft designs envisaged will remain "in the realms" of current types, in terms of passenger capacity, but possibly featuring a higher maximum take-off weight given the need to accommodate larger-volume tanks.
Llewellyn says the "race is on" between the different aircraft concepts, and Airbus has yet to select the most likely candidate for a hydrogen-powered airframe.
Airbus is aiming to reduce the number of conceptual models to fewer than the three unveiled by around 2022-23, and – depending on the level of readiness – have a mature technological proposal by 2024-25, opening the way to a potential programme launch around 2025 or beyond.
Llewellyn says the airframer wants to have demonstrators for different kinds of hydrogen propulsion system flying before 2025, but a full prototype is not likely to emerge until the end of the decade.
He stresses that the hydrogen production would be sourced from renewable energy, mainly wind and solar power.
"What we're already seeing in 2020 is the beginning of exponential growth in terms of those energy-production methods," he says, adding that the costs of these methods has "gone down significantly" with less subsidy and increasing competitiveness against fossil fuel.
He says Airbus is "encouraged" by the efforts from the transport sector and heavy industry to bring down emissions, and says renewable hydrogen power will become a "bigger part" of daily life.
"We're going to see trucks, parts of shipping, buses, running off hydrogen," he says "There's no other means for society to meet the [Paris agreement climate-change commitments] without hydrogen."
But the technological advancement and the necessary parallel overhaul of the eco-system required to shift to hydrogen-based aviation nevertheless pose substantial challenges.
"It's very unusual for Airbus to be talking about a programme ambition, a commercial aircraft entry-into-service 10 or 15 years before we plan to do it," says Llewellyn. Showing off the proposal to develop a hydrogen-powered airliner is "not only about Airbus", he says, but about "driving change" in the energy and aviation sectors.
A hydrogen-based aviation strategy need to develop regulatory and safety procedures alongside the infrastructure, transport, and storage capabilities.
Llewellyn is confident that the industry will be able to cope with the specific safety considerations for hydrogen fuel, through such technological modifications as double-walled insulated tanks for hydrogen storage. "[That's] quite different to the way we store kerosene," he says.
"We, as an industry, have essentially created engine designs, fuel system designs, refuelling operations and usage, which make kerosene – which is not inert – have an incredible safety record, one which, as an industry, we can be extremely proud," he adds.
"We need to achieve same sort of level of safety, or better, when talking about introducing hydrogen on board."
Hydrogen is "with us to stay", he states: "Aviation needs to be positioned to take advantage of that."