Airbus has unveiled the central pillars for shaping future aircraft cabin interiors from 2035, focusing on achieving sustainability through smart systems and biomimicry, while not compromising on passenger comfort.
The airframer says its Cabin Vision 2035+ aims to use biomimicry to design lightweight internal structures, and harness traceability to recycle and re-use materials including polymers.
It has proposed new concepts such as pre-ordered catering – either collected by passengers before boarding or, for long flights, stored on board – to offer greater choice to travellers, and reduce food waste, while enabling galley structures and trolleys to be removed from aircraft.
Airbus says decarbonisation and circularity lie at the "heart" of the vision, which it has developed through co-operation with industry representatives including 10 airlines and eight technology firms.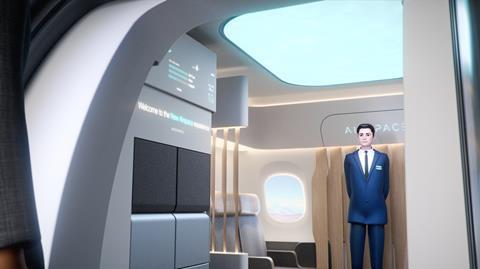 Cabins contribute some 10-20% of aircraft environmental impact, depending on whether the airframe is single-aisle or twin-aisle, said Airbus head of cabin marketing Ingo Wuggetzer, speaking during a 30 May briefing.
He says the industry needs sustainable cabin design but points out that passengers also want comfort. Wuggetzer adds that transparency for passengers regarding their individual environmental footprint is important, stating that they can be sceptical about carbon offsetting in their fares.
"People don't trust what happens to their money," he says.
Airbus's vision is founded on technological cores. Wuggetzer says there needs to be a "paradigm shift" to optimise product decision across their entire lifecycle, and that this requires digitalisation and end-to-end data.
Lightweight interior structures, capitalising on bionic design and biomimicry, could achieve a 40% weight saving on current equivalents and contribute significantly to decarbonisation.
Wuggetzer gives the example that analysis of structures found in a mushroom, and using these to explore a large number of possible versions, can produce lightweight solutions which "no human being would have thought about".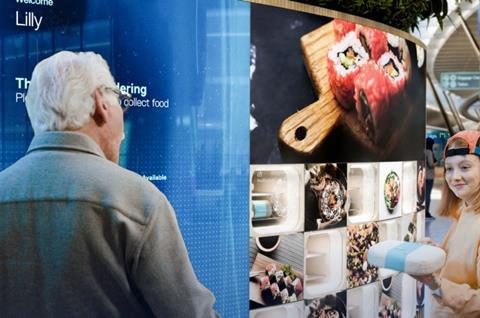 Circularity in material use is the "hardest to achieve", says Wuggetzer, but he says that a new sidewall panel concept explored by the airframer uses the waste from A350 carbon production. The panel is 18kg lighter.
Wuggetzer says the cabin vision foresees the use of materials which can be "recycled endlessly", but acknowledges that the industry "needs to get better at this".
Lufthansa Group, Air New Zealand, and Delta Air Lines are among the carriers involved in the consultation process, along with established technology firms, such as BMW, and start-up companies.
Airbus's cabin vision includes fluid boarding processes, more personalised services and seat innovations, and the airframer plans to give more details during the Aircraft Interiors Expo in Hamburg during June.