Airbus chief executive Guillaume Faury is confident that the airframer can justify and manage the ramp-up of A350 production back to its pre-crisis level in 2026.
The company is looking to restore a 10-per-month production rate for the widebody twinjet family.
"We have secured a number of orders, we have positioned ourselves in campaigns where we believe we have a certain likelihood of winning," said Faury during a third-quarter briefing on 8 November.
"And we continue to see a growing demand, and a lot of customer coming to us with campaigns and needs and fleet plans."
Airbus has a production backlog of nearly 500 A350s, lifted recently by orders from carriers including Air India, Lufthansa, Turkish Airlines and Philippine Airlines.
It has restored a Qatar Airways agreement for 23 A350-1000s while Taiwan's EVA Air recently disclosed that it had selected the A350-1000 for fleet modernisation.
Airbus's backlog for the type also includes 39 freighters – a new model which is intended to enter service in 2026.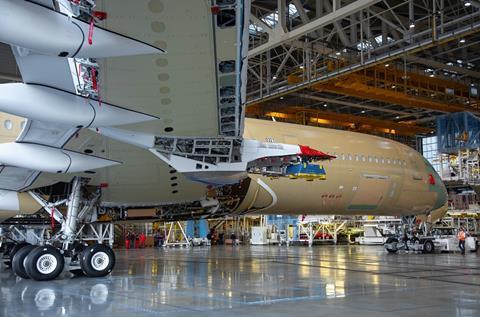 "We see a very significant recovery on widebodies, and growing demand, and it's translating the demand into our ability to supply," says Faury.
The airframer delivered 44 A350s over the first 10 months of this year.
Faury expects to avoid the ramp-up problems encountered when it sought to reinstate higher single-aisle production rates last year.
"We have a much better understanding – we believe at least – of the supply environment and state of the supply-chain, and its ability to deliver," he argues.
"We've done a lot of work on the A350 to try to take the lessons and learnings from the initial [A320neo] ramp-up.
"We have based our assumptions for the A350 ramp-up on this work, those activities and the very detailed understanding we think we have of the ability of the supply chain to deliver."