Commercial aircraft storage firm Tarmac Aerosave is to explore the use of automated airframe inspections using drone technology.
The company – part-owned by Airbus – has three storage facilities in France and Spain.
It is linking with Toulouse-based maintenance drone specialist Donecle in order to develop autonomous automated inspections of fuselages and engines.
Donecle's drone system uses fully-automatic flight coupled to image analysis software, and secure digital inspection monitoring.
Tarmac Aerosave says the drone makes a general visual inspection – for such aspects as regulatory markings, lightning strike, paint condition – possible in less than 2h.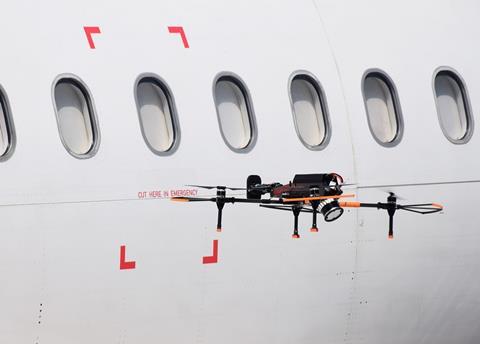 The company adds that it has "great interest" in the potential of the system.
"It is a valuable decision-aid tool," it says, pointing out that it enables faster aircraft delivery.
Tarmac Aerosave and Donecle have carried out a test at the Toulouse Francazal airport storage facility.
"The solution is currently fully operational for narrowbody aircraft in hangars," the companies state.
"Developments are now focusing on the capacity to carry out inspections outside and on widebody aircraft."