Asset management firm Amedeo has reached a provisional agreement to acquire 200 of the 19-seat electric-powered regional aircraft under development by France's Aura Aero.
Amedeo is entering a strategic partnership pact with Aura Aero, which unveiled a facility for electric aircraft development at Toulouse Francazal earlier this year.
The developer has been working on a prototype aircraft, known as Integral, with the intention of utilising the design and production experience on the 19-seat aircraft.
"For Amedeo, sustainable aviation is more than aspirational and we are committed and focused on partnerships in sustainable aviation that will define the next three decades in aerospace," says Amedeo chief commercial officer Gabriella Lapidus.
"We have seen various concepts showcased in the market and Aura AERO has an edge with the skill-set, talent and design that we stand behind."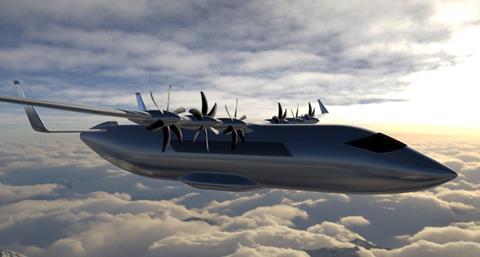 Lapidus describes the Integral prototype as a "stepping stone" to the larger regional type.
Aura Aero has indicated that it aims to develop both passenger and cargo versions of the aircraft.
President Jeremy Caussade says Amedeo brings "expertise in structured finance solutions" which is "instrumental" to the direction of the aerospace firm.
Amedeo has financed a broad range of aircraft types, tending to focus on the twin-aisle sector. It was a former customer for the Airbus A380 but never took delivery of the jets.