Ukrainian airframer Antonov has disclosed that several aircraft types, including an An-22 outsize freighter, were damaged during the firefight with Russian forces at Gostomel airport.
The large four-engined An-22 had been – along with the six-engined An-225 – a highly-recognisable aircraft within the Ukrainian cargo fleet.
Combat operations at Gostomel resulted in the An-225 being destroyed, along with An-74 and An-26 aircraft.
Gostomel's control tower and other buildings were wrecked. The An-22 suffered damage, as did a four-engined An-12 freighter, an An-124-150 heavy transport, and other aircraft including an An-28 and An-132.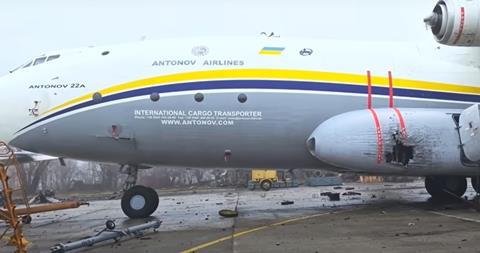 Ukrainian defence organisation Ukroboronprom has removed Antonov general director Sergei Bychkov from his post, pending investigation into information carried by the local media – although it has not clarified which particular details have led to his dismissal.
Acting general director Evgen Gavrilov has been put in charge of the company.
He has told colleagues that the Russian military action "struck at the heart" of the country's aviation industry, destroying the An-225 which he describes as "the world's most famous" aircraft.
Gavrilov hints at an eventual effort to rebuild the An-225, but says: "The main tasks are to preserve the technical and scientific potential of Antonov and quickly resume serial production."
Before his departure Bychkov also appeared to initiate an attempt to obtain international funding to recreate the An-225, through an appeal on the airframer's official social media channel, although its authenticity has not been independently verified by FlightGlobal.